Club Penguin - Herbert's Revenge
Club Penguin 2
The popular series Club Penguin returns to the Nintendo DS in Club Penguin Herbert's Revenge, the sequel to the original Disney game. Once again, young gamers (under 12) are reunited with a secret Penguin agent who must track down the notorious and dangerous Herbert, a polar bear with comedic sidekick, Klutzy the crab.
These dangerous animals wish to cause mayhem on Penguin Island and thus it's up to the player to help things out. Grab your DS, your stylus and secret agent gear to engage in 10 fun filled missions with even a crossover to the online game.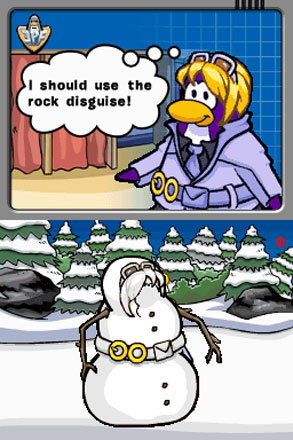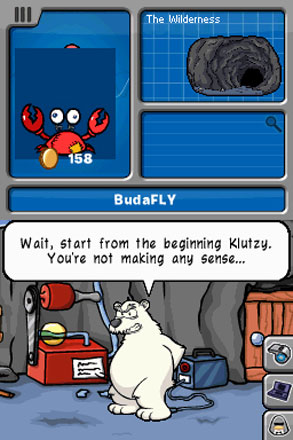 Sure... the story may sound a little waaaay out there but it's for kids and THQ continue the gameplay from the original game in this point and touch adventure game that also incorporates mini-games to liven things up. Some of these mini-games include arcade puzzles or elements of disguise which works well with the cartoon graphics. In terms of control, the control system is well utilised in Club Penguin 2 which uses the buttons of the console and touch screen capabilities of the DS. Most younger gamers should have no issues with.
As players explore Penguin Island, they will embark in a variety of missions which is generally searching for particular items or clues as they use a variety of spy gear to assist in the process such a decoder rings. The clues in the game are quite simplistic and the puzzles are relatively easy as well which is what kids games are all about. If you do get stuck, there is a basic help system to point you or your kids in the right direction.
Another cool aspect of the game is that coins collected in Club Penguin can be used on the online gaming world and even some of the clothes that your agent has access to. This crossover to the kid friendly MMO is brilliant and hopefully more games in the future will do this.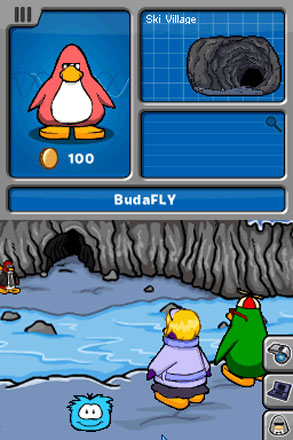 Although the controls work, younger gamers may require some adult intervention but overall, it's a game that most kids should have no difficultly in playing, preferably tweens and younger. Of course, all this Penguin fun comes at a price and in certain areas, players may get stuck if they have not collected all the items. If this does happen, you will need to restart the mission that you are stuck on. A little bit more Q&A would have solved this.
The graphics of Club Penguin represent the Disney game quite well and it has this great animated feel to it with sharp and vibrant colours. The characters are well animated and even though the gaming environments are simple, it will catch the interest of younger gamers. Add in some cute sound effects and a musical score and the game comes together rather well for its intended audience.
If your kids enjoy the online game or are under 12, than this game will definitely keep them busy for hours upon hours. Although there are a few bugs, most can be overlooked and with the inclusion of online play, Club Penguin Herbert's Revenge definitely adds something new to the world of DS gaming.