Boulder Dash Rocks
Many years ago before personal computers video cards contained 16 million colours, I was hooked on a simple arcade game called "Boulder Dash" or if you were lucky enough to own a Commodore-64, you had 16 colours as opposed to 4 on the PC. The game was a classic and featured the loveable character called Rockford who attempt to collect a variety of gems as he avoided the enemies in the wondrous yet often plain gaming environments. Fans can now finally rejoice as Rockford is back in the latest incarnation of Boulder Dash called Boulder Dash Rocks!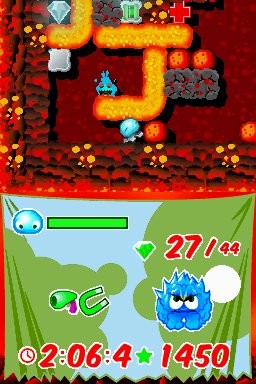 With that said, the Nintendo DS is perfect console for the Boulder Dash franchise and once again reunites gamers as Rockford as they attempt to solve a variety of puzzles by collecting all the gems in the gaming environment. The concept is simple and is similar to games as Dig-Dug and Jewel Hunter, grab the items, dodge or trick the enemy and moved onto the next level.
The idea of Boulder Dash is to move from the starting point to the exit without getting killed and collecting all the gems. Although it may sound easy in its essence, there are a number of obstacles in the way and one wrong move can see the gamer starting the level again.
Although Rockford had no weapons in past games, this new incarnation still allows Rockford to push boulders, provided a path has been cleared but there are also several weapons in the gaming environment to assist the player. Although the puzzles can become frustratingly difficult, the game is extremely addictive that will have you coming back for more and more as you attempt to beat the massive maze puzzle environment.
The game also has boss levels which does make things interesting and challenging at the same time. Needless to say, the developers have done a great job at recreating the original spirit of the game on this modern console. The control system also works quite well on the Nintendo DS touch screen with the stylus used to control Rockford in the gaming environment.

The graphics of Boulder Dash Rocks has a Saturday morning cartoon feel to it with its simplistic graphics and colourful gaming environments, add in a variety of special effects and the series has received a 21st century face lift. Throw in some quirky sound effects and a groovy soundtrack and you have a rather catchy and cute looking DS game.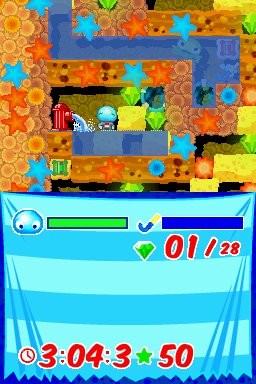 In conclusion, Boulder Dash Rocks contains a great number of extras such as a time trial race, head-to-head challenge for tow players and you have a very well rounded game that will give you hours upon hours of enjoyment, frustration and a healthy amount of cursing. Sadly, the title does not support Wi-Fi but hopefully future versions will implement this. Rockford is back and it looks like he's here to stay!