Bejewelled Twist
I've just finished reviewing Pop Cap's awesomely addictive Plants vs. Zombies title on the Nintendo DS and another one of their equally entertaining casual games is also available on this console. The game in question is Bejewelled Twist that features the same sturdy gameplay as players enjoyed on the PC plus the various gaming modes such as Blitz, Challenge, Zen and most people's favourite, Classic.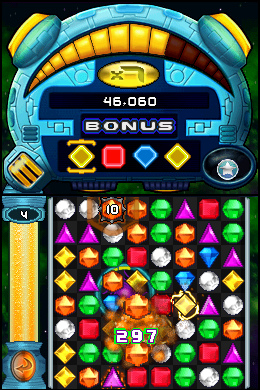 If the series sounds a little familiar, that's because Bejewelled Twist isn't the first game in the series as it was originally made for browsers in 2001. From there it spawned a variety of incarnations on various platforms until it finally and thankfully hit the Nintendo DS. So how does it play on the Nintendo DS? You'll just have to read on but between you and me... it's quite impressive!
Although some people have compared the bejewelled series to that of Tetris, Bejewelled is actually more complex and in-depth. Not to mention more entertaining but gaming has changed considerably since Tetris. The basic goal behind Bejewelled Twist is match three or more same coloured gems in order to make them "pop" away. You can also rotate or "spin" the gems in order to match the colours and explode these pesky gems.
Best of all, the control system of Bejewelled Twist works quite well on the Nintendo DS, especially with the inclusion of the stylus. The stylus basically works just like the mouse from the PC as you tap and move gems on your touch screen. I actually found it far superior.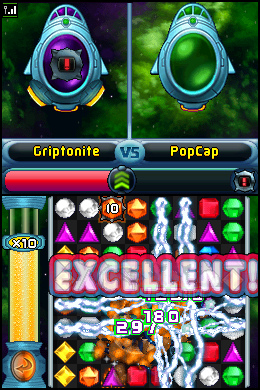 There are also a variety of twists (pun intended) such as power-ups, challenges, scores and timers to add to your gaming frustration that makes the victories even sweeter. Nothing is more entertaining than successfully igniting the lightning gem power-up which basically unleashes a chain of electricity onto a particular coloured gem which is like linking three similar coloured gems. For additional replay value, completing all the challenges can be a challenge in itself, especially when you are required to match a high number of same coloured gems.
If the pace is all too much for you, this is where Zen comes into the picture that just requires you to match the gems without the added frustration of challenges, timers or whatnot. However in order to use the Challenge and Blitz modes, you basically need to complete at least 10 levels of Bejewelled Twist in Classic mode which then opens up these additional gameplay levels. It is a good incentive because the first 10 levels does act as a tutorial to help you master the controls. There is a competitive multiplayer option, however both players need a copy of Bejewelled Twist and unfortunately we could not test this feature. All in all, the gameplay works awesomely well on the DS as you spin, match and explode those gems.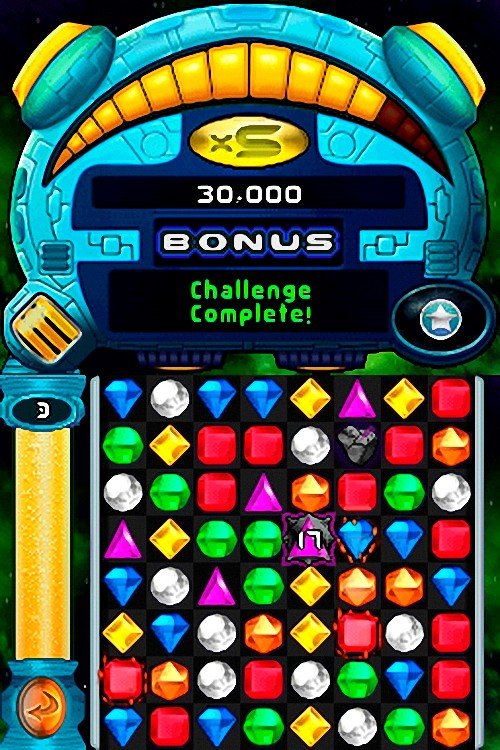 Graphically, Bejewelled Twist looks like the PC version and the developers have successfully managed to incorporate all facets of this addictive multiplayer title with all its psychedelic colours and special effects. There's definitely no complaints from me. The music and the sound effects once again resonance back to the original game that with the gameplay, make this an entertaining yet sometimes frustrating experience.
Final Thoughts?

Even though the Nintendo 3DS is slowly taking over the world as the new portable console of choice, it's great to see developers still supporting the DS platform. Its games like these that will definitely keep this console afloat a little longer but more importantly, the casual game known as Bejewelled Twist has been flawless ported to the DS. Check it out!
Review courtesy of Mindscape
http://www.mindscape.com.au/software/bejewelled-twist.do