Ron Marzís Velocity series is edging ever closer to the finish line with issue 3. The series has been pretty stellar so far and issue 3 manages to keep up the pace.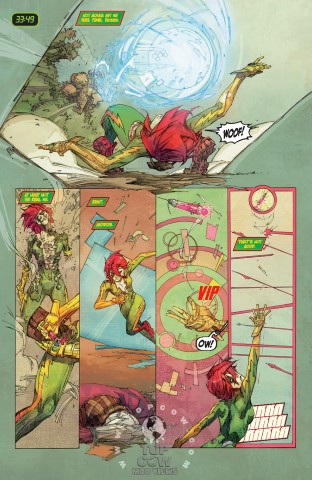 Carin Taylor is Velocity and if she doesnít apply an antidote to herself and the members of Cyberforce in sixty minutes theyíll all die. If thatís not hard enough (the team is located all over the world) the evil Dr. Erasmus Paine (the infector of Cyberforce) has sent many mechanical minions to slow Carin down.
Issue 3 sees Carin racing to save Cyberforce members Ripclaw and Dominique. As youíd expect Carin is involved in plenty of action in this issue and Marzís sense of pace is brilliant. There are lulls in the fighting to draw the reader in and then Marz hits you with something big, like the end of issue 3 that you would not have expected. In the end Marzís control of the story just gives you more reason to come back to the series as heís set up the finale really well.
With his writing he also manages to find the right blend of the serious and the fun. Marz finds time to let Carin make a few witty remarks but they never feel inappropriate or ill-timed and thereís never too many to change the serious focus of the story instead as more of a reinforcement of Carinís generally easy-going personality.
The artwork continues to be stellar. I do not think there is a better drawn and colored series at the moment than Velocity. I was a bit shocked to see Venice looking very much like Venice, I expected everything to look more hi-tech and futuristic considering Paine and Velocity but the city still looked great. The last page of this issue is probably going to stick with me for quite sometime, itís a powerful image.
Itís really hard to fault Marzís Velocity series. The writing is great, the characters are interesting, the action comes thick and fast while holding a few surprises and the artwork is simply stunning. If you havenít started reading this series then you really need to get on it!