The Top Cow Universe is best known for it's supernatural heroes Witchblade and the Darkness. The current events in ARTIFACTS has Ron Marz mingling that aspect with the high-tech arena of Cyberforce. Here he focuses on one of the members of that team while giving readers a chance to get to know these characters better.
Part four of "Decoys" features the super-speedster VELOCITY as she attempts to thwart the evil Doctor Paine, who has set in motion a plan to kill her and her teammates with a deadly virus. With only minutes left to live, the battle boils down to a grand finale that showcases not only Velocity's master of power but also her intellect. She proves that there's more to being a hero than just having special abilities. It's about using those abilities wisely.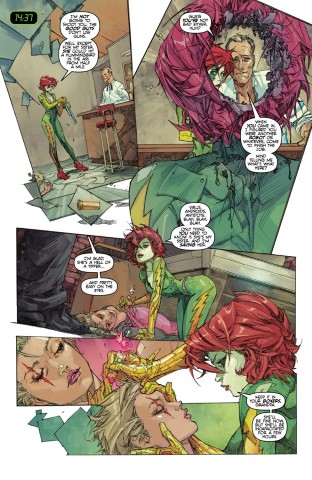 The art by Kenneth Rocafort and Sunny Gho is a perfect fit for the comic. It very much reminded me of Whilce Portacio at his best. There's a lot of energy in the lines and they do a superb job of establishing a sci-fi atmosphere. The ending battle was very exciting and that's due mostly to their design and detail. Mecha lovers, especially, will enjoy what they pull out of their hat.
But the best quality in VELOCITY is actually Ron Marz's writing. I found the heroine's constant banter and one-liners amusing and they never seemed out of place. The snappy dialogue would surely even make Spider-Man proud. Marz is a very talented writer and he shows that he has a good grip on the character. While Velocity does maintain a witty air, she doesn't come off as a goof. There is a seriousness about her that sneaks out at times, like when she's being protective of her sister. The different levels of personality displayed here make her a well rounded individual and thoroughly more interesting.
With this mini-series winding down, I do hope that we'll be seeing more of her and Cyberforce when ARTIFACTS comes to a close. It would be nice to have this creative team tackle an ongoing title starring the full group.