Image Comics, known for the strength of its creator-owned series, scored another hit with THE VAULT #1, the first installment of a three issue miniseries. THE VAULT, which has only been out for two weeks, is already being adapted into a feature film with producer Johnny Depp attached. Add to that the great reviews and the monstrous sales, and youíve got yourself a comic that is making big waves. Er, excuse the water pun Ė I just finished work on a 1000 WAYS TO DIE script, so Iím trying not to engage in punnery with every sentence.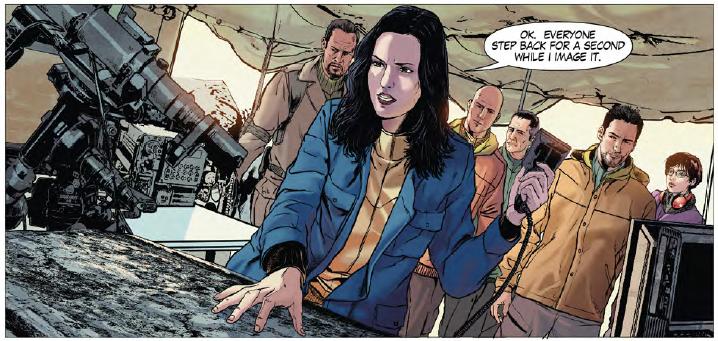 Now, letís take a step back from all the hype. Itís a hit of titanic proportions (sorry), but how does it read as a comic? WellÖ kind of like the all expository scenes of film have been edited together into a bonanza of plot. The issue opens with the brutal scene of a war between Heaven and Hell, but it quickly cuts to a team of scientists exploring a mysterious underwater area in hopes of finding treasure. A lot of the dialogue reads like a college level lecture, doled out to the reader through the conversation between the scientists. Itís somewhat humanized by funny one-liners (ďA million dollars worth of dive suit and you canít pee in it?Ē), but those pop up quite infrequently. The plot is intriguing, but the characters are little more than exposition machines with Dr. Parker as the exception. A brief scene subtly hints that she has trouble back at home, and the brevity of this scene piqued my interest enough to get me invested in her motivations. I hope that the following issues serve to flesh out the other characters.
THE VAULT #1 stays readable because of Garrie Gastonnyís solid pencils and the dichotomy of the supernatural war and the uber realistic main plot Ė how will they meet up? That alone kept me turning the pages, and the big reveal at the end promises that the next issue will spend more time on that.