When it comes to Oz, Jasper Frizzle takes things into his own hands, literally...
Have you ever believed in something so much that you were sure it was real? Did you ever think that perhaps there was a magical world out there somewhere that you would retreat to if you could? Did you ever for a minute get so caught up in the moment- perhaps staring at the night sky or watching a gentle rain in a secluded forest- that you simply forgot the real world existed? What if you could share this with others?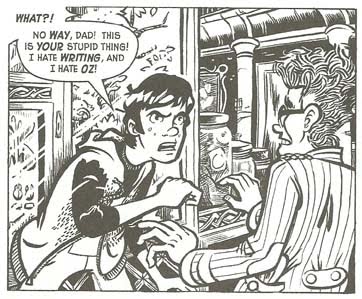 Oz fiction writer Jasper Frizzle and his son Frank barely get by and while most folks think he should write about more exciting stuff (at least to make money) poor Jasper is convinced that he is the only one who can write about Oz. Several folks would disagree, including not only an uppity group of literary snobs but also his own son. Frank is simply a victim in the scenario as he feels tied by his love for his dad and helplessly watches him succumb to what appears to be a mild form of insanity. Or is it..?
Blinded by his ambitions, Jasper eagerly jumps at a chance to experience Oz first hand when he discovers a magical portal to the other world. However, not being satisfied with just going there, he decides to bring as much stuff back as possible to further his studies. This consists of several items (and creatures) that didn't really want to be taken. His actions have consequences, of course, and a squad is put together to retrieve the items. I really liked the interpretation of these characters as I think they stuck fairly close to what I remember from the books when I was young. We're introduced a newer character along with the usual suspects that makes things a bit more interesting for all those involved..
Tommy Kovac shows great skill at writing a fantastical story and filling it with interesting characters that beg for attention. He also works as a librarian and his love for storytelling can easily be seen.
Andy Hirsch's art is simply incredible. There is so much detail and still nothing is lost on the characters and their emotions. He manages to convey so much to the reader that every panel adds layers to the story.
As for the faults of the book..? Well, I did think that Frank made friends with Zik a little too fast in the beginning but considering the length of the story it was probably necessary. And it would be nice to see a bit more things to remind us it's set in the future because I keep forgetting. When the squad from Oz said that they wouldn't be noticed I had already forgotten that important detail.
All of these are minor things, of course. I guess my biggest complaint really would be that it's only five issues long. If you love stories with a sense of wonder and magic you really need to read this book.