The Mission (from screenwriters Jon and Erich Hoeber) is an interesting take on what seems to be a new trend in the psychological thriller genre of comics.
Without giving away too much of the plot, the story so far focuses on the main protagonist Paul Haskell, a regular Joe type of character who, after a doctorís appointment, is visited by a man called Gabriel. Gabriel claims that Paul has been chosen for a mission in a war between good and evil and has 48 hours to carry out his first task. Believing Gabriel insane Paul dismisses the idea, but after being visited once again by Gabe, receiving some unfortunate news from his doctor and a few twists I wonít mention he eventually carries out the mission.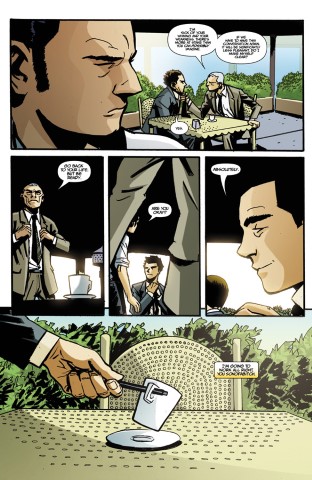 Issue #3 starts out with a very humorous interaction between Paul, his wife and their marriage counselor that really sets the very human tone of this series. Paul, reeling from events in previous issues, decides after a meeting with Gabriel at an outdoor cafe to take the mysterious mans coffee cup to have the finger prints tested by a childhood friend in the police force, the results of which leave Paul seriously questioning his own sanity.
The series so far has been expertly crafted by writers and brothers Jon and Erich Hoeber , the dialogue between characters feels extremely real and the story so far has flowed very well. The art team of Werther Dellíedera and Arianna Florean bring a simple Tim Sale like quality to the book. Itís not an overly flashy style, but then again it would not suit the tone of the series if it was. Thatís not to say the artwork from Dellíedera and Florean is not fantastic.
Overall The Mission is looking to be a must have on any comic book fans pull list.