Mad scientist spy stories have been the focus of many a comic and novel over the years and Image Comics new monthly series The Intrepids is another take on the popular subject matter.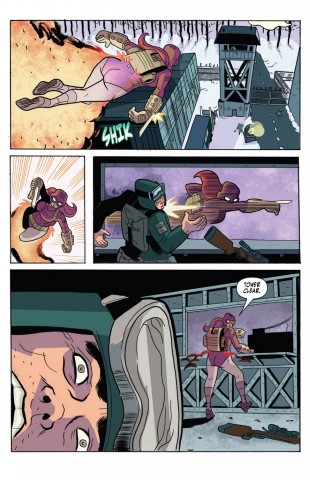 With an old school, pulp feel The Intrepids tells the story of Dante, an engineering genius, who takes children off the streets and augments them with mechanical enhancements to fight his arch-nemesis Doctor Koi who stole the technology when they were partners to sell for profit on the black market. The story gets even weirder than a man abducting and experimenting on small children as the issue focuses on their latest mission, stopping a mad scientist who has a penchant for creating killer half animal/half robot hybrids. This particular hybrid is a purple grizzly bear who for some reason reminded me more of Grape Ape than a killer grizzly.
There is something very interesting in The Intrepids very bizarre story but also, under the surface, it seems like thereís this funny side that wants to burst forth but didnít. Doctor Koi, in his brief appearance, seemed like a caricature of an Asian American with his broken English, the characters try to make a few jokes but are shut down and the whole animal experimentation and child abduction thing is too bizarre and creepy to think about if itís being played straight and not tongue in cheek.
Apart from Dante the main focus of the story is his team of augmented heroes that includes Doyle (the muscle), Chester (the brains), Rose (the scout with rockets) and Crystal (the leader). Crystal seems like she is the focus of the group as the story spends more time on her back-story and her relationship with Dante. While we were given insight into Crystal we had to assume Crystalís story mirrored the rest of the group as nothing was done to explain them. The art makes all the characterís look old but in fact most of them are still quite young or at least immature and it can be quite confusing. Crystal throws a mini tantrum at one stage because Dante is thinking of bringing in some more subjects for augmentation and it presents a new angle to the story, Dante as a father figure but the art just doesnít make me think of them as kids any more.
That being said the retro feel of the art is pretty good. It certainly feels like it is paying homage to the pulp stories of the past, but to a lot of readers the style probably will probably be an acquired taste. If you can learn to embrace it then you are treated to some great character designs, action, backgrounds and uses of colour (Grape Ape grizzly).
The Intrepids is an absurdist spy tale that, so far, seems to be taking itself too seriously and could be a lot of fun if it embraces its silliness and treats its subject matter with a little more emphasis on comedy. As a first issue it doesnít seem like its sure what it wants to be yet and hopefully it gains an identity soon.