So the Cape is a new series from IDW, based on a short story by Joe Hill. In this issue we meet Eric and Nick. Eric is a slacker with no ambition or drive, who still lives with his Mother. His brother Nick is doing his residency at Boston Medical. While there, Nick has to see the body of Amanda, his friend, Ericís ex-girlfriend. So unfortunately for our resident slacker, take a guess whoís at the top of their list of suspects?
We also get a glimpse of an accident Eric had when he was young. He was wearing his cape, made out of an old blanket with a lightning bolt sewn on. Eric and Nick were playing hero and villain, when Eric fell out of a tree. He swore he felt like he was flying.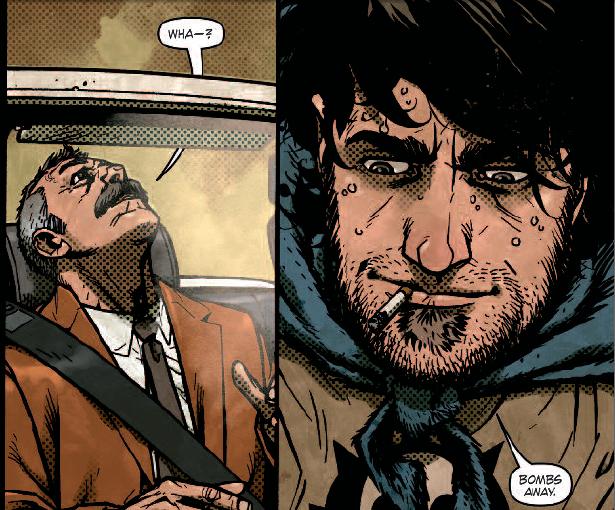 Now Iím sorry to say, Iím not familiar with Ciaremellaís writing before this. Now I am very impressed with the story of Eric so far. Heís been able to take a slacker from the edge of the couch, to the edge of my mind. Itís very interesting to see how Eric thinks, and thatís a testament to Jason Ciarellaís writing.
As for Zach Howard's art, its great! I especially like how the art is kind of rough looking, which exhibits, in a very visual way, Ericís rough life. However in the flashbacks, itís very clean. Now in Ericís mind, the past is where he ďlives.Ē Thatís where he was happy, when he was with Amanda. Heís done the near impossible, he conveys emotion in his art, which is something thatís sadly missing from computer generated books. you can see his turmoil in his eyes! The last panel of this issue sent chills down my spine!
In closing, itís really hard to think of anything thatís wrong with this book. A very original story, told from a point of view weíre not used to seeing. If youíre a fan of crime drama shows like CSI, Criminal Minds, Dexter, etc, youíll love this book as much as I do!