For those of you that haven't read the first two issues, here's a little back story: Set during the depression, we meet Martin, an orphan who has grown up fearing the mythical midnight train. The train has claimed the lives of many sinners, including his father. One night, after a particularly bad run of luck, Martin goes out looking for the train. When it stopped for him he makes a deal with the conductor that he will willingly board the train for the ability to freeze time at a particular moment in his life.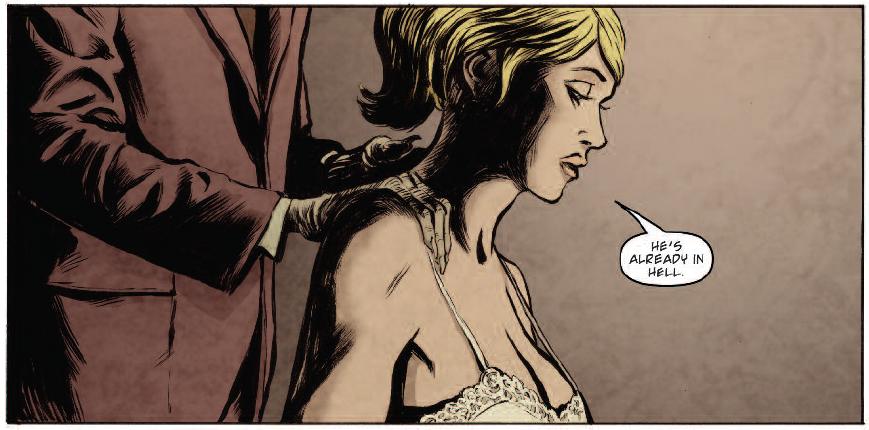 The comic is based on a story by legendary writer Robert Bloch. I have heard of him but I'm sad to say I'm not familiar with his work. Now, I am familiar with Joe Lansdale, whose writing has always been inspirational! He's one of the best in the business at writing dark stories! If I want a happy story, I go to Disney. If I want realistic, I go to Joe Lansdale!
As for the art by Dave Wachter, I really liked it! To me, what stands out is his shading technique. His use of dark and light is perfect for the tone of the book. If you want to see what I'm talking about, check out some of the darker times in Martin's life after he lost his job. I was very impressed with how his shading conveyed that Martin had sunk as low as he could go. If you go back through the issue and take out all the words, you can still follow the story based solely on the art, and that's greatness!
All in all, I really liked THAT HELLBOUND TRAIN. There's a lot of symbolism, and it's nice to see a dark story where love conquers all and our protagonist comes out on top. The only complaint that I have is that the story moves really fast. It seems like we go from his adolescence to adulthood in just a matter of pages. I understand it's an adaptation but it felt a little rushed. Otherwise is was great and I do recommend it to everyone!