In case you didnít know, thereís a new Teenage Mutant Ninja Turtles series out, and Iím happy to say that it gives us a version of our favorite turtles that fans of both the comics and the toys/cartoon/movie/lunchboxes that were so ubiquitous in the late 80ís.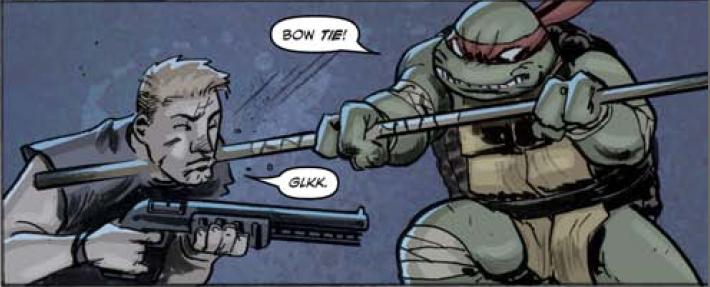 I was just the right age to enjoy the first wave of Turtlemania I had as I could talk my parents and grandparents into buying me. I watched the cartoon with near religious fervor, and made sure that my mom took me to Pizza Hut so I could get a copy of the Album that they put out.
As much as I loved the Turtles, for some reason, the comic didnít quite do it for me. Sure, I can appreciate the grown up, gritty feel now, but Iíve always thought that itís best to keep the original comics separate from everything else Turtle-related.
What we get for this go-round, which I believe will be the fifth volume of the comics, is a complete re-imagining that combines the best of both worlds. A kind of grim and gritty version of the original cartoon, made to appeal to the kids who grew up with it, yet find their 30-year old selves looking for something with a little more substance than the cartoon.
The story combines action sequences with the beginnings of an origin story. Throughout, there are a lot of names dropped that will be familiar to even the most lapsed fans of the cartoon, although for now, the characters are regular people and animals, which I am sure will be mutated into cartoonish twisted versions of themselves at a future date.
Perhaps the most notable part of this relaunch is the involvement of Kevin Eastman, who hasnít had much to do with the world of TMNT since the late 90ís. Eastman provides the story and layouts here, leaving Tom Waltz to do the scripting, and Dan Duncan to put the finishing touches on the art. All and all, the result is pleasing, with art that evokes the original comics, and a story that is sure to appeal to fans of the cartoon. This first issue puts into motion multiple story threads that will leave you wanting more.