"This is where it begins!"
And with that, Robert Kirkman (co-creator of WALKING DEAD and INVINCIBLE) charges full-steam ahead with his latest super-hero comic.
SUPER DINOSAUR features the title character, a talking dinosaur that likes to play video games and fight the good fight, and his trusty sidekick Derek Dynamo, a boy genius who is guarding his own little secret. With names like Doctor Dynamo and Max Maximus also along for the ride, you can probably guess where this is headed.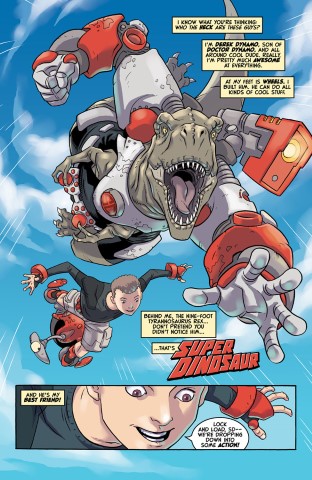 In this first issue we jump right on in as Super Dinosaur (SD for short) and Derek are rounding up a few renegade dinosaurs (with similar action figure-ready names), pausing just briefly for a one-page backstory about the rivalry between his dad and Maximus. I didn't really feel there was much danger for our heroes however, as their foes were clearly just there to give the comic a nice action sequence to establish what they were capable of. Plus, Derek has enough enthusiasm and youthful arrogance to make even the reader think anything was possible for the duo.
While the fight scenes were well paced and moved the comic along nicely, it was the introduction of the supporting cast midway through that really brought things to a higher level. With their arrival we get a catalyst for change that appears to be more worrisome to Derek.
Although I didn't really feel that the ending had enough of a draw to reel me in for the next issue it did serve as a good setup for future stories.
Reading SUPER DINOSAUR, I felt I was watching a cartoon designed to sell a toy line. Which if it was, it most likely would. If anything else it could lead to an animated series (and with Kirkman's WALKING DEAD already a tv show, you never know...). The story was a fun read and will appeal to fans of The Secret Saturdays, Ben-10 or Johnny Monster. It's definitely a comic that is kid friendly and easy to take in. Jason Howard's art was very energetic and suited the title perfectly. I would probably recommend it to younger readers that enjoy Cartoon Network. However, older folks may find the cute names a bit of a turn off.