With the first issue of Shinku, Ron Marz and Lee Moder introduce us to a different kind of samurai. With an arsenal that would make the Punisher thrilled, this fierce lady wages a one-woman war with the undead.
The opening sequence of "Throne of Blood, Part One" could very well be the start of a blockbuster action film. Indeed, as Shinku drives off on her motorcycle, I imagined a killer soundtrack kicking in.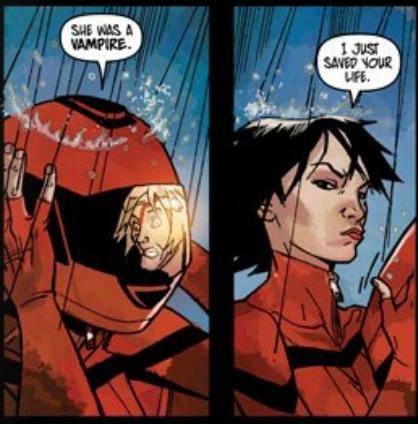 The story deals mostly with Shinku crossing paths with a young American, named Davis, who's in Tokyo for a business trip. Through Davis, we are introduced to the warrior and her world gradually. At last when she reveals to him the back-story that drives her and her mission, it feels natural and not as forced as it could have been. We are given just enough history without losing the urgency of the current story.
Davis also has another purpose in the tale as he serves as an anchor for the readers. He appears flawed and insecure with a personality that contrasts sharply with Shinku's cold lack of emotion. There are a few funny moments that help keep the story from becoming as dreary as it might have been, had he not been there to play off of her matter-of-fact attitude. Essentially, he's like a frame that gives the context through which she's viewed.
No stranger to strong female leads, Marz has written Witchblade for quite some time now and is on the roster for DC's relaunch as the writer for Voodoo. After reading this first issue, I can safely say that Shinku would definitely rank up there with those women as an equally compelling character.
Moder complements Marz in the comic very well. He does a fantastic job of making the character's expressions tell just as much as the words they speak. He has a fitting style for the book, dynamic and full of energy. Davis and Shinku both are well designed and you can tell a lot about each of them just by the visuals.
Speaking of the visuals, this book is rated Mature for a reason. Generally, I'm turned off by mindless violence and nudity that's done just for the sake of doing. There's plenty of both in this comic but the writing justifies their use to the point that I don't mind as much.
Shinku #1 will undoubtedly appeal to fans of Blade and Kill Bill. If you're looking for a nice action-adventure comic to give you a reason to eat popcorn while you read, give this one a try. Oh, and I recommend listening to the Akira soundtrack alongside it.