SAMURAI'S BLOOD is a tale of vengeance set in 17th century Japan, written by Owen Wiseman, an American who has a keen interest in feudal Japan. The twist to his story is that in place of the typical samurai heroes featured in similar stories, our heroes are a group of teenagers, whose clan has been shattered by some evil men.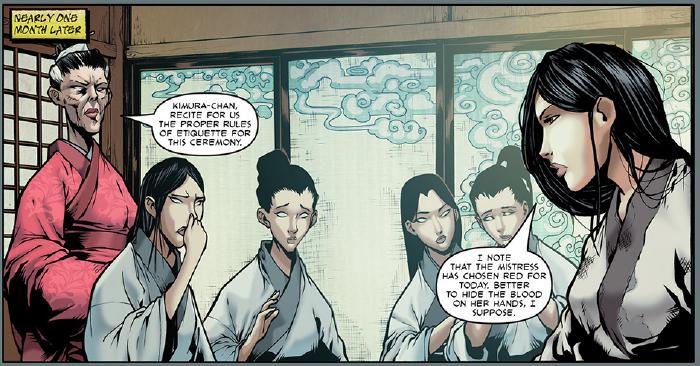 Issue 3 of the series deals with Kimura, the girl of our group who has been captured and is being trained as a prostitute. A meditation on suffering acts as a narrative device moving the story along as Kimura suffers indignity after indignity, using the suffering to stoke the fires of the heart in preparation for the day when she will get her revenge.
Story-wise, I couldnít help feeling like itís a story Iíve read many times before, however the power in the story is how effective it is in making you feel what Kimura feels. The story is a cruel one, and the reader isnít spared from any of the shocking cruelty inflicted upon her, which could be considered to be a bit gratuitous and unnecessary as sometimes it is better to stay away from graphic depictions and let the reader fill in the blanks.
Wisemanís story is helped by the art of Nan Kim, whose work on the characters looks like it would fit right in with your typical superheroes. Kimís work features some clean line work that would likely be just as effective in black and white, but the coloring in this comic adds another dimension to the art, switching between color palettes to help emphasize the emotion and using some kind of light effect that gives everything a glow that gives the book the look of a beautifully shot historical drama movie.
SAMURAI'S BLOOD #3 chooses to keep the story simple in favor of taking the reader on a journey with Kimura, a task which is pulled off to great effect thanks to the efforts of a team of capable creators.