Vampires. Is there a hotter supernatural entity in the entertainment industry at the moment? Books, comics, movies and TV shows have all featured the pasty bloodsuckers heavily in the last few years and you could be forgiven for rolling your eyes at the sight of yet another vampire based story, like Viper Comics Nosferatu. So in such a crowded marketplace is Nosferatu worth reading?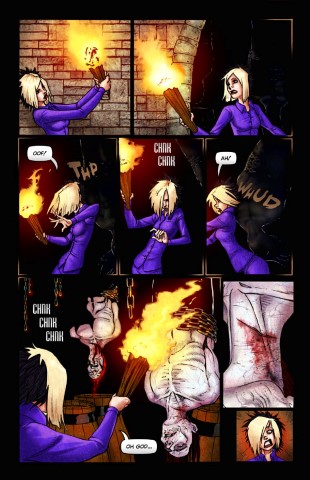 You could be forgiven for thinking the graphic novel reads like a mixture of so many different vampire stories. The story features vampirism as more of a plague or virus similar to what was recently featured in the Guillermo Del Toro and Chuck Hogan books The Strain but its familiarity is intended, the book is a modernization of the classic silent film of the same name.
Tommy Hutter is a photographer who gets whisked away to Germany to take some photos of the reclusive Count Orlok's castle as a favor for gallery owner Nox. Tommy spends a rather creepy time at Orlok's before discovering a dark secret about the reclusive Count. Tommy heads back to America to see her girlfriend Elle but Orlok has also become fixated on Elle. When Orlok reaches US shores he brings with him a deadly virus as he searches for Elle.
So yeah, basically the story manages to transport a classic tale to the present without sucking (ha ha vampire pun) and without featuring love-struck, sparkly teenage vampires who are vampire vegetarians so plus 1 for Nosferatu. While it does follow the classic story fairly closely, it does add its own little twists, like a greater focus on Nox and the inclusion of the Homeland Security guy and terrorism fears, and it is generally an enjoyable read. I did feel that at times the story did skip ahead a little too far like at one stage Nox is rather normal then he's biting people and then he's in a mental institution. It all happened quite fast with very little explanation. Still Nox, the owner of an art gallery, was probably my favorite character in the book and that was probably enhanced by his sudden transition from sleazy but normal to complete and utter loon. The scenes where Nox is in the mental institute are strangely, almost disturbingly comical and he has a maniacal charm and wit to him that make him a great read. Orlok also manages to get under your skin in terms of character design and his dialogue and mannerisms. As soon as you see him you know there's something up while Tommy and Elle have a good youthful energy to them and their love and relationship seems real not overdone.
The art was good with plenty of blood when it was needed. It was a really vibrant and fresh style that allowed for some nice comparisons between where Tommy and Elle lived and the dark, old and Gothic castle of Orlok. There was a good use of color throughout the book that really helped the art work come alive.
If you thought you couldn't get excited by another vampire tale then think again. Viper Comics Nosferatu is a very impressive book that manages to re-imagine a classic story for a modern audience without cheapening the experience. There are strong characters, great dialogue and good artwork in this fun vampire tale.