Image comics are never scared to test the waters with new stories and while not everyone is a home run they have had their fair share of successes and Nonplayer is looking like it could be another one.
(Spoiler Alert) Blending virtual reality and immersive role playing gaming in a future world Nonplayer offers people the opportunity to escape to beautiful fantasy worlds that would look at home in a CS Lewis or Tolkein novel. Dana, our female lead, ventures into these worlds to battle evil overlords and, is quite good at it, while it also seems she has the skills to create her own worlds.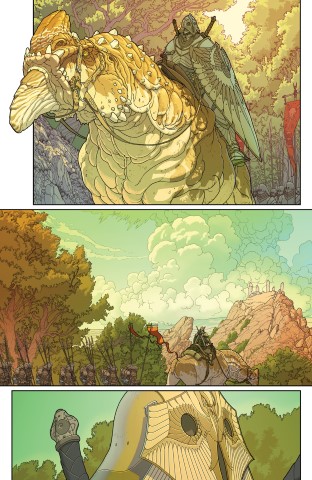 If that sounds like a vague outline it's because it is. Author Nate Simpson is holding his cards very close to his chest, so close that I have no idea what the hell is really going on with Nonplayer. Every change in the story was a surprise I did not see coming as I had no idea what Nonplayer was when I started reading it. It seems like there are Inception like influences throughout the story with potentially a bit of Tron going on as well. Seriously this is how vague the story is, but there's something about it that has me hooked. We see people getting more and more immersed in online fantasy worlds that the ability to take them with us or physically transport ourselves into them does not seem that far off.
Simpson does a brilliant job setting up Dana as our lead and it was interesting to see how differently she acted in the game and in reality. In the game she was tough, fearless and confident as she attacked the evil King Heremoth. Back in reality she is awkward, defensive and a bit of a brat almost like she's using the game as a means of escape to be someone else, a very common theme for multiplayer online games. Simpson doesn't really spend much time on any of the other characters although King Heremoth does seem like a formidable villain.
While the story is great you will fall in love with this comic for its artwork, which is also handled by Simpson. From the cover to the very last double splash page (one of the best splash pages, period) this is one jaw droppingly gorgeous comic. The amount of detail Simpson puts in to every page is just mind blowing. Landscapes go on for miles, every character seems full of life and there's a real sense of depth and space within the panels. A lot of this is aided by the coloring. The game world is awash with a slightly orange tinge and characters stand out amongst the backgrounds due to their darker colorings. Like Dana you feel yourself drawn into the fantasy because it all looks and feels so real. Even the action doesn't miss a beat in terms of intricate detail. When a large beast carrying the King's personal chamber is felled and tips over the King's chamber is smashed into splinters, each painstakingly recreated on the page.
I could gush about how amazing Nonplayer is for a thousand more words if I so desired. It is seriously that good an issue. While a lot of the credit goes to the artwork, a true justification for comics being dubbed the ninth art, Simpson also manages to plant the seeds of a very gripping and very modern story. Readers may feel a little lost at first but that just means you'll want to read it again and again and again.