The climax of the 30 DAYS OF NIGHT: NIGHT AGAIN miniseries is an all-out bloodbath. Limbs fly, every other word is "fuck" or "cunt," and you could paint a fire truck with the amount of blood that is shed in this issue. It seems as if it's striving for the same effect as the first 30 DAYS OF NIGHT comic series, where the bloodbath fades into the background in time for an emotional coda… but there isn't really enough here for me to care about the characters. I can appreciate it as a balls-out horror-fest, but the final scene didn't have quite the resonance I think Joe Lansdale was aiming for. A forced poignant line at the end of the comic doesn't do much to make it emotionally resonate.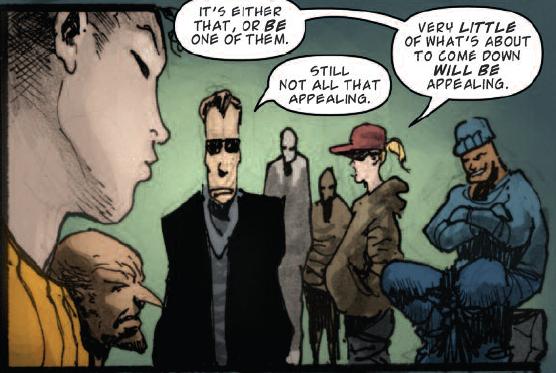 That's not much of an issue for me, though, because the rest of the issue holds no pretensions. IDW has said that they're trying to erase the image of vampires as cuddly love bunnies (at SDCC, they allowed fans to trade in TWILIGHT books for issues of 30 DAYS OF NIGHT… which is the best thing ever), and this series serves that purpose very well. Sam Keith's cartoony art adds a nightmarish effect that would make any TWILIGHT fan reconsider their dream of dating a vampire. Completely relentless in its gore, this isn't a comic that you can take your time leafing through. Readers will rip through these pages at a breakneck pace… which makes sense, considering how many necks are broken and/or completely severed in the course of this issue.
The bottom line: While NIGHT AGAIN does not do much to add depth to the 30 DAYS OF NIGHT franchise, it is a fun, weird, bloody ride that reminds horror fans why vampires are scary.