JUDO CHOP! That is the sort of cheesiness I expect when Iím told I will be reading a comic entitled Judo Girl. Something along the lines of Hong Kong Phooey, the Hanna-Barbera animated show. Though both main characters of Hong Kong Phooey and Judo Girl are fly seventies martial artists, that is all they have in common. Judo Girl does not take advantage of the humor that could be used with such a title.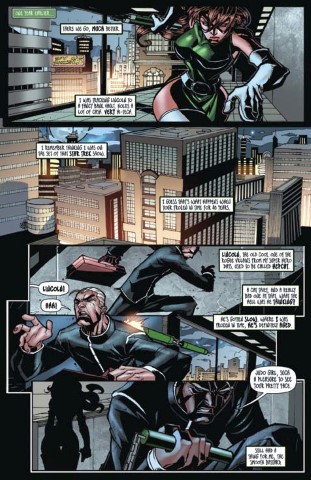 Judo Girl is about Diana, aka Judo Girl, who after being frozen for forty years is back to kick some serious butt. But much has changed over time. Her brother, Judo Boy, is now a cyborg and many of the old superheroes and supervillians have teamed up to join The Revolution. Judo Girl has a choice to make about how she is going to adapt to the 21st century. Will she continue to be the nunchuck whacking superheroine or blend in with the rest of society? Then there is option C, the question of what the U.S. government wants with her.
At the beginning of Judo Girl I was a bit confused. The cover said it was the ďfirst kickiní issueĒ of Judo Girl but I felt like I was being tossed in midstream. In this issue we find out that Judo Girl, her brother, and their archnemisis were frozen for forty years, but it is never revealed why or how they became unfrozen. Iím sure the writers didnít want to answer every question in this first issue, but I feel there were too many going on at once for readers to get a firm footing in this new world.
I never thought Iíd complain about this, but the choice in font was awful. The comic is a simple read, if you can decipher the words. I spent minutes on pages re-reading sentences over and over again because Hís looked like Mís and so forth.
As for the art, I was also a bit disappointed. The only other Blue Water Comic I have read would be Nanny and Hank and the style in that book is off the wall and different. As an independent comic I expect the artwork to try and be more original. Instead, I felt this to be a softer version of Top Cowís style. The drawings were not bad; nevertheless like the rest of the comic they did not fulfill my expectations.
Iím willing to give Judo Girl a second chance. Nothing, besides the font, was glaringly awful. But I do feel if you have someone that has been frozen for four decades they should be acting more like it, humorously or not. In this case the tone the writers have chosen is more serious. Iím not saying there are no jokes in the comic, I just feel that they fall flat and are not the core of the comic, as I would wish them to be. Either way, when reading the second issue of Judo Girl I plan on going in without any preconceived notions of what the issue should bring.