Book two of Robert Kirkman's Invincible is considerably darker than the previous instalment as the world around Mark Grayson (aka Invincible) becomes tainted with the Golden Age of heroics falling down around him. The book opens up with a wonderful segment where we see Invincible fighting a one-eyed alien from another planet.
This alien has come to Earth to make sure that i's current champion (hero) is suitable to be its protector, however Mark does the unthinkable... he actually decides to have a chat to this alien as opposed to fighting him. In a comedic turn of events, this alien called Allen is actually at the wrong planet and its moments like these that make Invincible such a joy to read.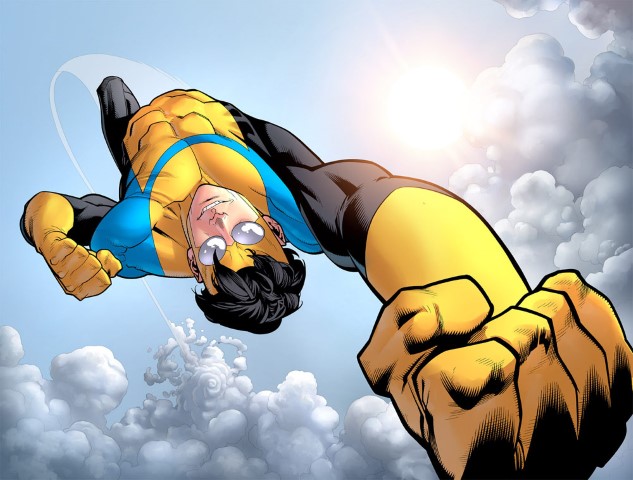 As the stories progress, we learn that Mark's father is part of a Justice League type clone (Guardians of the Globe) and like the Watchman, these heroes are dying one by one. Without spoiling the cliff hanger at the end, let's just say, the "killer" was not expected. Needless to say, Kirkman continues to write gold with Invincible and there's plenty of drama, action and comedy thrown into the mix. I love it at how down to Earth the character is and also the characters around Mark like his friend who realises that he is actually a superhero.
Another memorable moment is when his parents are bumping uglies and when Mark returns home early, his father (also a hero), dresses both he and wife at super speed but Mark realises that her dress is on backwards. Another fun moment is Invincible giving his friend a ride as they fly around with Mark saying a word that sums it up perfectly... gay. It's classic Kirkman.
To compliment the work of Kirkman, this literally genius is joined by Walker, Ottley, Crabtree who help make up the amazing Invincible with its quirky artwork. The artwork may not be as refined as mainstream comics but it has a charm to it, much like Invincible. The only drawback is that this volume is only four issues which collects Invincible issues five to eight. It's quite a short read!
Even so, this is definitely a book for those who have had enough of mainstream comics. Check it out!