The cover image and title of Gladstone's School for World Conquerors may look like something more suited to early morning cartoons, but this is one comic book that while looking cutesy has more substance than most of the stock standard super hero titles on comic store shelves.
We start of the story with an excellent introduction and history lesson from one of the many super villains that teach at the school, Dr. Archibald Phinius IV, P.H.D., that sets the humorous tone of the series very well and brings readers deep into the world so beautifully created by writer Mark A. Smith and artist Armand Villavert, a world where a failed villain named Ashu Gladstone decided like many an actor that if he couldn't do it he would teach it.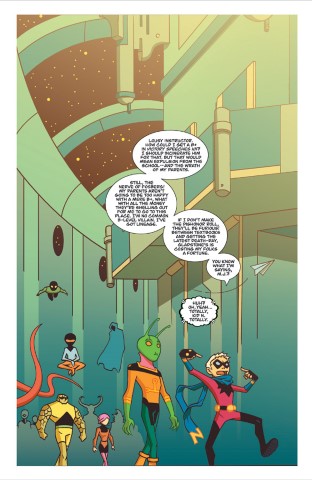 After a few twists I won't mention, the school is opened, our introduction comes to an end, and we meet some of the colourful and bizarre characters of the book, Kid Nefarious, a child prodigy in the super villain world and his green skinned friend Martian Jones, and to round out the cast Mummy Girl, Ghost Girl and the insanely cool Skull Brothers are all introduced.
As a first issue it does a great job of introducing its cast and their universe without giving away too much of their backgrounds. Also Mark A. Smith does a great job of making the young cast converse like actual children, a rarity in comics when they usually articulate older then they are. The artwork by former Toykopop artist Armand Villavert is some of his best to date, there's a two page splash half way through that is just a sight to behold.
Overall, an engaging and fun comic that can be read and enjoyed by old and young alike. Imagine Avengers Academy meets Despicable Me, but in a good way.