I have always been a G.I. Joe fan. I loved the cartoon as a kid and would reenact scenes with my ever expansive but never big enough collection of action figures. G.I. Joe was even the first comic I ever bought, and Iím often tempted to pick up an issue and see what my favorite fictional military heroes are up to. However as with most comics I want to get into, Iím oftentimes intimidated by the massive amount of back story that I will need to catch up on. Cobra Civil War seems to be IDWís attempt at making G.I. Joe accessible again.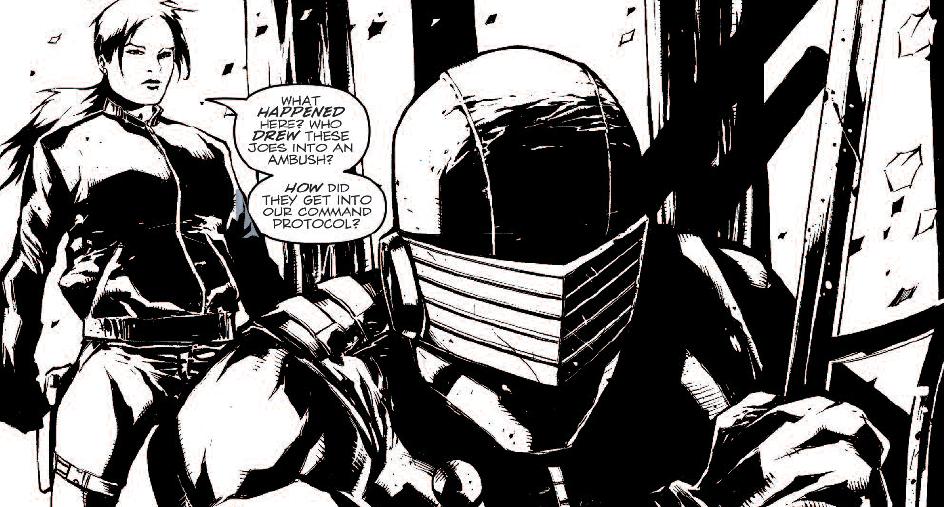 A recap on the title page tells us that an undercover Joe named Chuckles infiltrated Cobra and managed to kill Cobra Commander. From there we have 3 short stories that set up the 3 titles that will be carrying the crossover. Each of them is simple and presents enough information to get you interested in checking out the next issue to see where the story goes. To quickly recap each, the first story is a simple story about a bunch of Joeís Iíve never heard of investigating an abandoned Cobra outpost. In the second story, we get a inside look at what is happening inside of Cobra, as Baroness moves to find a replacement Cobra Commander. Fan favorite Snake Eyes is the center of the third and final story as he investigates an incident at a training facility of his and we are treated to some foreshadowing that leads to the obvious assumption that Snake Eyes is going to see some pretty significant action in the crossover.
The art inside is black and white although there is some very interesting use of color. Iíve always loved how clearly the artistís work comes through in B&W although it makes it harder to disguise the sparse environments of Antonio Fusoís art in the second story. Artists Javier Saltares and Agustin Padilla fare much better in the fist and last chapters as their work features clean line work and dynamic action that seems to jump off the page at times
I was impressed by the tone of the stories, grim and gritty enough to appease the grown up crowd, yet still filled with enough ninja action, cool gear, and silly codenames to excite the 8 year old in all of us. Though brief, this preview has me curious to see whatís in store for the next phase of G.I. Joe.