I read Joshua Hale Fialkovís Echoes last year in the Top Cow First Look graphic novel. I really enjoyed it then and I enjoyed reading it a second time.
During the second reading the story felt longer and more developed. I donít know if thatís true or not or just had something to do with reading it on its own and not with a collection of other stories. It felt like I was discovering new things that I missed the first time round and shows a depth to Fialkovís storytelling.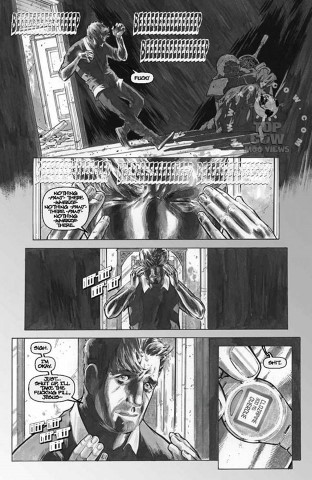 The story could be described as a son fulfilling the last wish or plea of his father, going to their old family house to dispose of a box, but itís much more than that. Echoes is a story about secrets and how everyone has them yet some are more shocking than others. This makes Brian particularly untrustworthy as we can see that thereís something wrong with him and you wonder what exactly he might be hiding. Iím not quite sure where the series will go from here; it didnít really set up any obvious progression, but more than likely Brian is going to become an even more untrustworthy narrator as he spirals out of control confronted by all the dark secrets.
What really helps the story is the artwork. In the editorís notes Fialkov describes the book as a mix of horror and noir and you really get the sense that thatís the case through the artwork and the use of sound effects. The use of black is very prominent, even for a grayscale book. It helps to hide the startling revelations in the book while also helping to build suspense, presenting a black abyss the character reaches into and is almost surrounded by at times and is then punctuated by the sound effect of a phone or watch that truly startles the reader with its abruptness, just like a horror movie. Fialkov and Ekedal toy with the reader with their perfect pacing, creating lulls, building tension and then shocking the reader all when it seems most appropriate. Overall, Ekedalís art is beautiful, simple yet highly detailed with some nicely contrasting page layouts.
Echoes is a perfect example of quality independent comic book creation. It shows that the medium can operate outside of the typical spandex hero genre and does something mature, suspenseful, scary and a little bit sinister. A thrilling read!