In a fantasy world of magic and sorcery, dragons and wizards, a group of heroes meet at the local inn for drinks and merriment. After a death defying adventure into the underdark, where they were aided by the tiefling Tisha, the group leader Adric is negotiating with her to join their band of heroes. Just then, a noise from under the floorboards is heard! Boards are broken as zombies begin coming up through the floor!!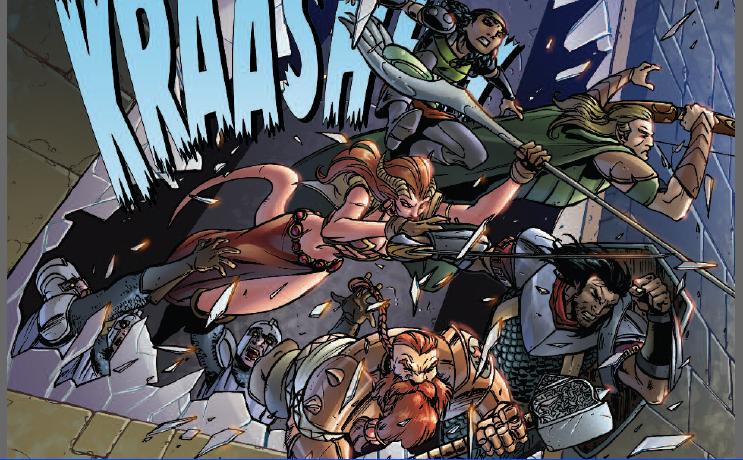 Now in this newest incarnation of Dungeons & Dragons we get all the classic archetypes represented: Adric, the warrior, Tisha the tiefling warlock, Bree the halfling thief, Khal the dwarven Paladin, Varis the elven ranger, Copernicus the gnome wizard, and Julianna the sorceress. These archetypes have been around ever since Tolkien introduced them to us many, many years ago. Thereís something very warm and fuzzy about these archetypes. For instance, itís comforting to see, even today, that elves and dwarves still have a tenuous relationship, and Halfling thieves still walk the narrow line between trust, and mischief.
Given this, itís time for my inner geek out, Iíve been reading fantasy and playing Dungeons & Dragons for years. Now this game has been around for over thirty years, it has had four editions, a cartoon series in the Ď80ís, and millions of gamers playing the game. Now the great thing about the game is itís only limited by the playerís imagination. As for the new series put out by IDW, it has some good points, and some bad. As I mentioned earlier, the archetypes are great. Iím a little put out by the dialogue. Now Iím not asking for old English, just more believable dialogue for a fantasy series. As for the story itself, it did seem to move a bit too fast, but it was full of adventure, which kept my interest all the way to the end. I did like the art; character design is pretty good, if a little clichťd. The coloring is, I think, my biggest issue, it just seemed too bright. When I see zombies, I expect dark. But everyoneís armor was perfectly polished, no dirty clothes, etc.
In closing, I think this series has the potential to be great! thatís why Iím giving it a 6.5 out of 10.