For reasons that I can no longer explain, I held off on watching Doctor Who for a long time. I may have been scared to jump into a show with decades of continuity, or I might just have been resisting in a vain attempt to be cooler than my friends.
Spurred on by boredom and with a bit of stay-cation on the horizon, I decided to jump in a couple of weeks ago. I started with the 2005 revival showcasing the adventures of the Ninth Doctor and was immediately hooked. I particularly love the way the show deals with using the limitations of television within the story, weaving time travel and making the doctor part of a species that regenerates itself to explain the ever changing face of the doctor.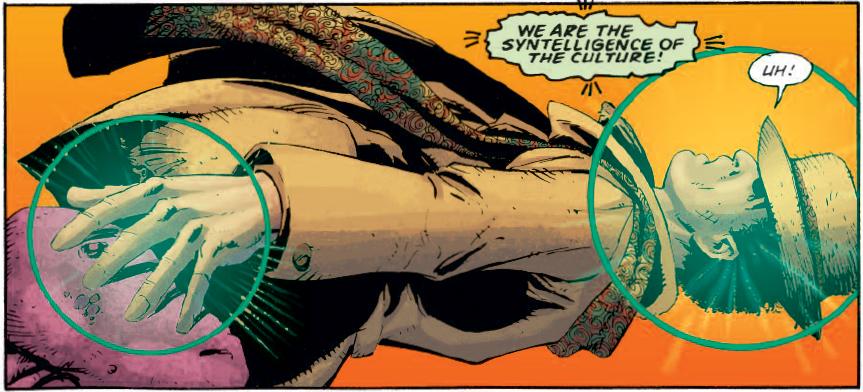 Grant Morrison provides us with the lead story in Doctor Who Classics #5 (a reprint that was originally presented in Doctor Who Magazine #139). Hearing Morrison talk about his process might lead one to think him mad, which may well be the case. Regardless of the state of his psyche, Morrison is by any standard one of the most influential comic writers of our generation. Some people (myself included) love him, and others find him to be too weird.
One of the criticisms leveled at Morrison which does have some validity is that sometimes his comics can be slow to build up, leaving one with a whole lot of weirdness and only a vague sense of what the story is as we wait for him to weave together some grand story arc that may play out over the course of years. Not so in this comic, here we are presented with an 8 page Morrison tale, featuring all the high concept weirdness one expects from Morrison, but in a more condensed format.
The story revolves around the doctor helping a life form that exists on a level completely different from the ones we typically associate with intelligent life. Itís short, sweet, and full of the high concept weirdness we expect from Morrison.
Bryan Hitch provides art for the tale, and thereís little more to say than that he breathes life into the story, lending a realism to the fantastic worlds featured in this story as only he can.
The second story is a Sci-fi ghost tale written by Dan Abnett with art by John Ridgeway. Itís a tightly paced story that evokes the Aliens movies, a kind of space ghost story featuring space marines trying to unravel the mysteries of a planetís inhabitants. Itís a pretty quick story, and one that offers few surprises, and instead focuses on simply being good, a goal with which it accomplishes.
Iíve always loved anthology comics and Dr. Who Classic #5 is a prime example of why. You get two high quality stories from top shelf creators that appeals to fans of the creators involved and the property theyíre writing about.