DOC MACABRE is a comic that fits firmly into the recent style of supernatural/horror tales influenced by hit shows like Fringe and Walking Dead. This first issue by Steve Niles and Bernie Wrightson introduces us to the good Doc doing what he does best- exterminating those things that go bump in the night. One part mad scientist and one part Ghostbuster, he creates and uses various gadgets in his exploits.
Here, Doc Macabre is hired by an elderly couple to exorcise a ghost from their home. This house couldn't be begging any harder to be haunted as it looks like the Addams Family lived there.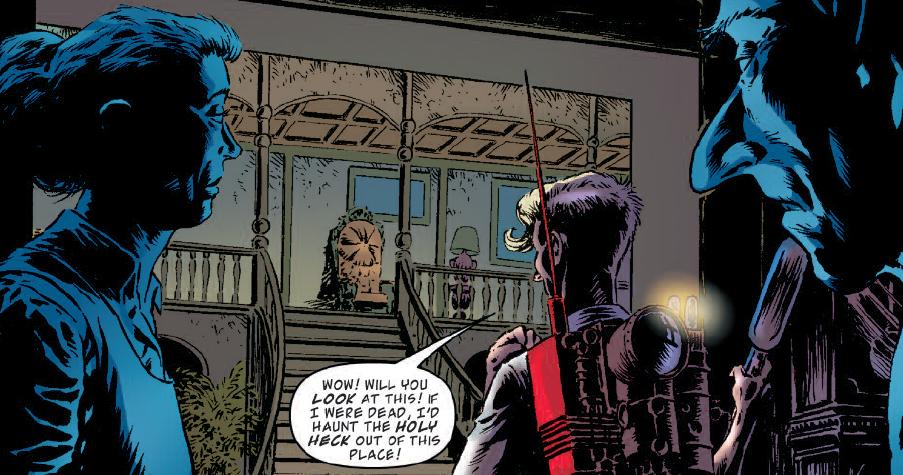 While Niles' story was pretty straightforward, the real highlight here is the art. Some artists are more suited to zombies and monsters than others. The three that top my list of "Most Capable of Monster Carnage" would be Stephen Bissette, Doug Mahnke and Bernie Wrightson. True to form, Wrightson fills the book with a great deal of dread and gloom while at the same time his cartoonish faces give the characters a life of their own. At first, I really wasn't feeling the character design for Doc Macabre. He came off reminding me of the guy from Garfield. By the end of the story, however, I started to warm up to him.
Of course, the end of the story came pretty quick. Turns out it was only sixteen pages long. That was a little disappointing...
Aside from the small page count, the only other thing I found lacking was a supporting cast. All we have here is Doc and his loyal robot assistant/butler/secretary. I'm sure that they were left out because of space restrictions but I think the book would greatly benefit from having someone to interact with him on a regular basis. From what we see in this issue, Doc seems like he could be an interesting hero to read about. Unfortunately, the shortness of the story and a lack of personal depth left much to be desired. The comic did read rather nicely, though, and Doc's dialogue does give a good indication of his personality.
It may not seem like much at the moment but if Niles and Wrightson stick with it and flesh the world out a bit more, I think DOC MACABRE will shape up into a book worth watching.