Daomu, the new comic from Image Comics, certainly shows promise. I may not be as enamored with it as the 20 plus million Chinese fans that have followed the original novel, but the first issue showed it has potential.
The story is a high-concept one essentially trying to make grave robbing cooler and more mystical than simply being grave robbing. I have a feeling that to certain cultures, where death is treated in a different way, the story may have a deeper meaning. At the moment itís just a curious observation into a generally frowned upon activity and the first issue only hints at what's to come. That's probably the main complaint with the book, it has a unique idea but itís almost too afraid to say it in the first issue continually being on the verge of announcing something big before cutting away and moving on in a different direction.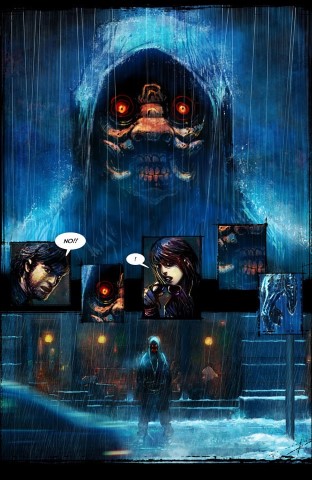 The only reason it has potential is the one page plot outline at the beginning of the issue. It outlines the world that Daomu operates in and gives you some pretty important information that was lacking from the first issue. The issue is also hampered, in some regard, by being a novel adaptation. It tries to capture some of the narrative perspective from the book, resulting in a lot of text on the page that distracts you from the art. There are also a lot of shifts in tense, past to present, that can be disorienting especially when they happen in the same panel.
The art flirts between being awe inspiring and refreshing, like the shoot out, to the boring and bland. Certain character drawings, in particular looked, very bland like Sean whose facial expression seemed permanently stuck in serious face mode. In a few scenes the characters also seemed to stand out from the background a little too much, with stronger line work. It was a shame because the use of perspective in the shoot out was very cool and the way the rain was drawn it felt very real and thereís a great sense of atmosphere in the pages that helped draw you into the action. The use of color was also very good; there was an almost painted, water color feel to the art that suited the issue very nicely and the cover is very eye-catching. Iíd buy this book based on that alone.
Daomu looks like a series that, for new readers, will be better picked up in a collected trade. Itís all very vague and contains a lot of dialogue that doesnít really tell you anything about whatís going on. The art is impressive at times and the action was well done, but it canít help the sense of feeling lost amongst all the text that tells you nothing.