Matz and Luc Jacamonís sci-fi series Cyclops has been great so far, but with issue 3 the stage is set and Matz is starting to do some really interesting things.
Issue 3 sees our hero Douglas Pistoia gaining ever more popularity. Multicorps and the UN have come to an agreement on how to end the violence in Turkey and Doug is part of the final sweep before the plan goes into action. What should have been a simple mission turns life threatening for Doug as he attempts to rescue some stranded civilians and once the dust settles and Dougís star rises even higher he has to wonder Ďwas this a set-up?í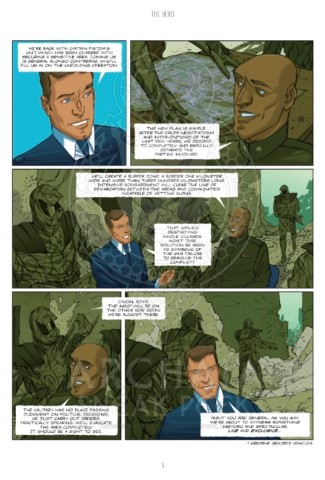 Matz is starting to weave his magic with the plot of Cyclops. The introduction of the journalist brings the moral voice that many readers are probably experiencing in their heads into the book. Heís asking some difficult questions of the UN and Multicorps and they donít like it. The journoís questioning also further highlights the comments Matz is making on propaganda and an all controlling media empire as they have the power to bury and belittle him if they so choose and if it looks like heíll effect their bottom line.
Matz is also starting to delve deeper into the idea of privatizing the military through the journalistís insinuations that the Argentina conflict may have been artificially stimulated. Itís a legitimate concern that a business that runs off war and selling footage of that war would actually be frightened by peace as it closes off its revenue stream and would need to ensure there is conflict somewhere to keep the dollars rolling in.
Amongst all that Matz still has enough time to focus on Doug. Heís starting to believe there isnít something right with Multicorps and after the events of issue 2 it seems natural that his worries would come to the forefront in this issue. We want to think of Doug as a good guy and after what heís been through weíd like to think that all the fame in the world wouldnít be able to mask his feelings about whatís really going on.
Jacamon isnít given much time to show off any flashy artwork in this issue. There isnít a lot of action instead Matz is trying to build up the depth of the story, so the issue travels a long at a much slower pace, but itís still a very good issue to look at. Jacamon is great at capturing facial expressions and body language so even scenes where characters are standing around talking look good. Interestingly Dougís girlfriend looked more human this issue, yay, but I did notice some of the characters looked a bit shapeless at times when they were wearing a suit.
Cyclops is probably one of the most politically relevant stories, across any platform, on the market today. Matzís world mirrors our own so closely and should provide a warning for the future. Issue 3 delves even deeper into the ramifications of having a privatized military and media monopoly and is truly a great read.