Charismagic #0 was a breeze to read. At the time a lot of that was attributed to the small size of the issue and it was expected that a longer issue 1 would slow the pace down. After reading through issue 1 that is not the case as itís an equally quick read and sadly, equally as short.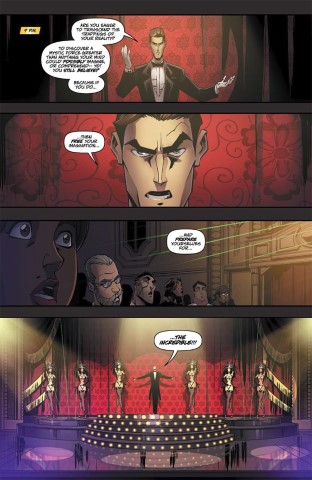 Issue 1 follows the Vegas magician Hank. He has probably the hottest act in town thanks to his mentor Hector. After seeing Hector at his latest show Hank visits him and is told a seemingly ridiculous tale about a real magical being called Samsun who has been imprisoned for ages and now heís coming back. The issue ends with a few chilling pages and a talking cat!
After reading issue 0 I was hoping that the story would focus on Hank as that could prove different and interesting from the typical fantasy story. Issue 1 certainly delivers and Hank is a charming, witty and energetic lead character. His dialogue is well written, particularly the exchange between Hector and him as it seemed like a relationship with a lot of history and a lot of baggage. We do see a little bit of the Druid from issue 0, but the focus here is really Hank.
The little thoughts in the dialogue were also a nice touch once youíve completed the issue. When you look back on them they are like the things you wished you said to someone but now donít have the opportunity to, the little regrets in life. I did get a little lost in Hectorís explanation of Samsun and the apple, but I got the general idea by the end of it.
What was really impressive in Charismagic #1 was the art. In particular the final few pages are quite stunning with the sense of isolation really taking hold of you as Hank walks through Vegas. I really dig art that tries to portray realistic light and shadow and Charismagic #1 does it really well. Randolph and Lopezís combined art also captures the feel of Vegas with the bright lights and iconic skyline while populating it with sexy showgirls and characters with believable facial expressions. As stated in my review of issue 0 itís a very clean and clear style thatís just different enough from the norm of Marvel and DC to keep your eyes glued to the page.
Charismagic #1 probably could have been a few pages longer as it felt like we were really starting to get somewhere interesting and things ended but the set-up is good, the main character likable and the artwork topnotch. Iím not sure where the story is going to go from here, but it looks like itís going to be a good one and hey, at least thereís a talking cat along for the ride.