'BREED III sees the return of legendary comic creator Jim Starlin to the world of Ray Stoner, a half-human/half-demon warrior sent to save the Earth from ultimate destruction.
Things get off to pretty rocking start as our hero is out to save a woman and her terminally ill son from his "brothers"- other half-breeds (hence the title).
The best part of the comic is Starlin's art. He comes from the pre-Jim Lee era of artists and has a style more akin to George Perez. The linework is very solid and his larger scenes (such as Of Elsewhere) are breathtaking. Stoner in his monster form is very similar in design to Thanos and Lord Papal (from DREADSTAR), two other characters that Starlin is well known for his work on.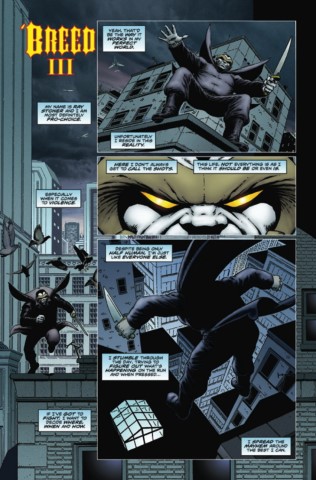 On the other hand, I thought that the pacing of the story was a bit uneven. Over half the book was exposition and the woman and son became nothing more than an audience for the backstory to be given to. While this was a good way to bring new readers up to speed it slowed down the main action and didn't explain much of what was going on in the immediate present. With the comic ending with a flashback cliffhanger I really wasn't feeling a strong desire to find out what happened next.
One thing that made me wonder if there was an editor involved was the mis-spelling of the word "Pastor" as "Pasture". Not once, but twice. I wonder if that was intentional or an overlooked mistake.
A lack of editing may also explain why the story didnít feel as tight as it should have been. Starlin is obviously proud of his main character and the world he's created but the comic ends up going off on a tangent, becoming a sort of "matter of fact" handbook. I would have liked to have seen the focus return back to the threat at hand before the close of the issue.
'BREED III will mostly appeal to followers of the first two series and Starlin fans will definitely enjoy seeing his art muscles flexing again. As for new readers, it does a good job of introducing Ray Stoner and his personal problems but with the lack of urgency I don't think it makes a very strong first impression.