So far my experience with Red 5 has been limited to the brilliant Atomic Robo series. When I was sent Bonnie Lass to review I was excited about the prospect of checking out a new series from the publisher.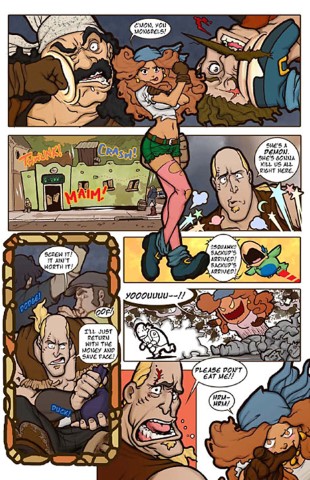 Reading Bonnie Lass, a comic about a buxom female pirate named Bonnie Lass who is trying to outdo her pirate fatherís legacy, I couldnít help but feel it was series created with a little bit of inspiration from the Shonen Jump manga and anime One Piece. Thereís the small but loyal crew, unconventional and daring captain, the beginnings of a quest for a great treasure and a style of humor and art that closely mirrors what you would see in a manga/anime. The similarities are not huge but I get a feeling that Bonnie Lass could rock up in One Piece one-day and Loofy in Bonnie Lass after the first issue.
As far as first issues go itís pretty light on for background information about anyone in the series. We get a few bits of information about Bonnie and mentions of her father and a plot to get her to discover a treasure she may be the only who can find it but apart from that we are given no information about the world of Bonnie Lass. Instead, we are treated to some laughs and a fair bit of action. Where Iíve found Atomic Robo to have more laughs than action Bonnie Lass was the reverse in issue one with a bit of comedy and a lot of action. Itís a good way to go about things as Atomic Robo has been such a well received and successful series and Bonnie Lass will need to do things its own way to emerge from Roboís shadow.
One area were Bonnie Lass really stands out is in its artwork. Like I mentioned earlier there are hints of manga in the artwork, mainly the over the top reactions of Bonnie and the discussion between Bonnie and Doogan. They are drawing styles associated with manga but the use of very vivid colors that really pop out of the page help to create a style all to its own. The action is handled well and the pages have a good setup and flow to them, but there wasnít anything really remarkable about the action. There werenít any extravagant pirate-y setpieces like in Pirates of the Caribbean or super-powered fights like in One Piece that really stick with you.
Overall, Bonnie Lass was a fun first issue. Iím finding myself looking forward to undertaking a treasure hunting adventure with a group of pirates as itís something I donít see too often in comics and Red 5 are giving it a good crack. Recommended especially for One Piece fans.