Bonnie Lass has provided something that has surely been missing from comic books of the past few years, crazy pirate action, and the third issue delivers a hell of a lot of that.
Issue two finished on a rather large cliffhanger and suitably issue three picks up right where issue two left off. Bonnie and her motley crew are seemingly at the mercy of the evil Monet (yes thatís the bad guyís name) who has swooped in at the last minute to steal the glory of Bonnie solving the mystery of the Leviathan. A fierce, rockíem sockíem duel between Bonnie and Monet later and both crews are sucked into a mysterious whirlpool with the beast of the leviathan.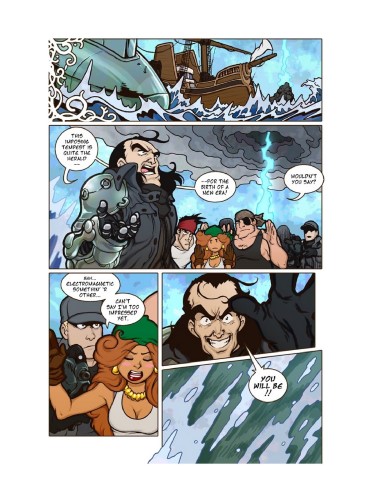 Iíve generally enjoyed the story of Bonnie Lass, but in this issue I found myself really confused during Monetís explanation of his grand plan. There was just an overload of new information that was hard to process all at once. Thereís some crazy history, information about Bonnieís dad, secret organizations revealed and plans to take over the world. It probably didnít help that all this information on the story was interspersed with amazing fight scenes between Bonnie and Monet.
I found myself ignoring the speech bubbles and instead concentrating on one of the best fights Iíve ever seen in comics. More like a fight out of Dragonball Z you could really feel the force behind every crushing blow due to the intense action lines around the point of impact. Apart from the fantastic action we are also treated to some rather epic scenes involving the Leviathan monster and Bonnie and Monetís ships floating round it in the middle of a whirlpool. It will be interesting to see how it turns out in print format though as one or two pages appeared as half pages in my digital copy and I wonder what they will do with them.
Issue 3 does bring Monet out of the shadows and presents him as a more than adequate opponent for Bonnie and her crew. He has that evil swagger to him where he commands the page, especially when he has one up on Bonnie and her crew.
Bonnie Lass #3 is another great looking entry in this limited series. The fight scenes are some of the best Iíve seen with the creators Dragonball Z influences really shining through. Issue 3 gives us a lot of plot information, but it was almost too much to take in at once and to make any sense of it all you are going to have to read through it a few times.