Bonnie Lass #1 was a great read that was a lot of pirate filled fun. Saying that I was eagerly anticipating the release of Bonnie Lass #2 which is available now digitally and in print.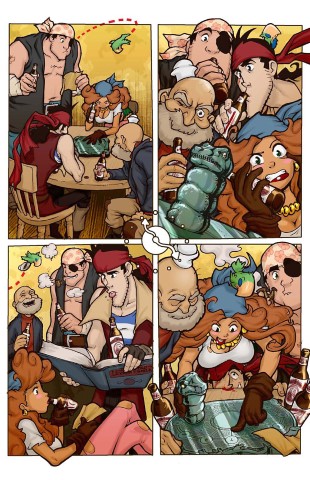 Bonnie Lass #1 was filled with plenty of gags and action as we were introduced to Bonnie and her crew, but issue 2 tones things way down as writers Tyler Fluharty and Michael Mayne use this issue to develop the character of Bonnie a lot more and delve into some of the back-story that has made her the buxom pirate she is today. Thereís also a cliffhanger ending that hints that the third issue is going to be another action packed one.
Fluharty and Mayne do this by showing the readers Bonnieís father, the infamous Cutlass, and what he did to Bonnie to make her hate him so much. It seemed like the right time to explain Bonnieís relationship with her father as so much of the adventure they are on, the second half of the issue, is fuelled by Bonnieís desire to best her dad at something he could not complete. Knowing why she hates him so much makes the adventure seem more worthwhile and helps the reader to connect with Bonnie.
The more serious focus also showed that Fluhary and Mayne can handled real storytelling and bodes well for the rest of the Bonnie Lass series. This could be more than just a hot chick punching guys in the face; it could be a great adventure story with meaningful characters and it will be really interesting to see how issue 3 pans out.
The art continues to impress with its digital art style that looks like a mixture of manga characterization and stained-glass window-esque coloring. Itís just such a refreshing series to look at, the color and the action almost jump off the page at you. Bonnieís pirate world is a mash up of old and new technology with GPSís and cutlasses, submarines and pirate ships, but done in this art style it all just seems to work.
Bonnie Lass is a great pirate story but more than that itís shaping up to be a great adventure story. Issue 2 adds some much needed depth to the story and to Bonnie that leaves you greatly anticipating the release of issue 3.