Rich Ashwalt is running from the cops. Heís a realtor. When he sells a house to a mysterious, terrifying man, surprisingly, all is good. All that changes when Rich is framed for the murder of the mystery man. Now Rich must solve the case while avoiding the police. Either that or risk prison. Or murder.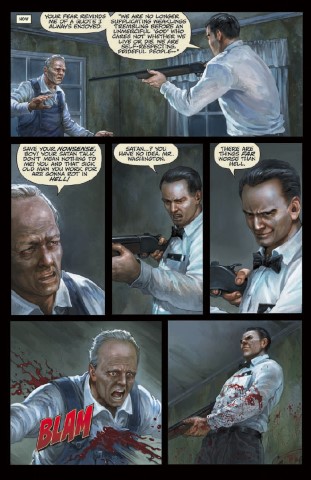 The most gripping aspect is the art. Itís realistic. Itís detailed. Itís eye-catching. The detail on Richís face is freaky. I can almost feel his stubble. Itís quite intense. Even if I didnít like the story, Iíd have to admit the art is mesmerizing. When the story takes place at night, I feel the night. If the story takes place at dusk, I am there. It transports my physical setting into the story. I can feel the fire when Rich is hallucinating. The low number of word balloons is refreshing. Way too many comics are swamped with word balloons. They distract the art. The low number in this story gives the art space to breathe. Refreshing.
Now, granted, I like the art, but that doesnít mean there arenít faults. One fault is Wayne Nicholís and Rodell Nooraís mannish art. The female characters donít look feminine. The chins are too rough. The faces are too haggard. The overall feminine quality is lost. The art for women is better for some pages than other pages. Itís also better for some women than others. The same thing could be said about the art for darker-skinned people. Al Sperry looks like he could be African on one page, Indian on another page, and Latino on another page. The hues change too rapidly. The tone is not set properly. Things can be blurred.
Another problem is the characterization. Itís only the fourth book in a six issue mini-series. That doesnít excuse the somewhat weak characterization. Al Sperry seems pretty lifeless, as does Newt Washington. It would be better if Al was acting more like a cop than a worried friend. He would have appeared with more dimensions.
Now the storytelling was okay. As I said, it was low on word balloons. So thatís a plus, but this story seemed kind of filler. It would have done better to give Al Perry a smaller role. He doesnít do much in this story. He seemed to distract the story somewhat.
Overall, I liked the comic. Iíd say itís worth seeing it through to the end. The art is great, but the story could use work. The team who put it together is on the ball. I just wish they could have been more on the ball, if you know what I mean.