Though both sides had extensively utilised propaganda during World War I and the technique was likewise to flourish throughout the Soviet system, no one group made more protracted or effective use of propaganda than the Nazis.
In the two decades preceding their demise in 1945, Hitler's National Socialists produced many thousands of posters, pamphlets, films and books designed to extol the virtues of the party's infallible leader or its many constituent factions, though after Hitler's ascension to power in 1933 the emphasis largely shifted to railing against enemies both internal and external. The two most prominent of these were, of course, Jews and Bolsheviks, forces seen as essentially one and the same in the dark recesses of Hitler's fevered mind; to his final days he would rant about the alleged crimes perpetrated by 'international Jewry.' This obsession is evident in much surviving Nazi propaganda and spans a variety of media, from the infamous 1940 film The Eternal Jew, with its sequences superimposing images of ghetto-dwelling Jews over those of rats escaping a sewer, to the children's book The Poison Mushroom, published by the infamous anti-Semite Julius Streicher - one of the most chilling photographs in the present book shows a handful of blond-haired schoolchildren innocently flicking through this brightly-coloured, picture-filled grotesquery, which equated Jews to toadstools and warned children how to spot these 'criminals and swindlers.'
But it was in the propaganda poster that the Nazi penchant for artful vitriol found its fullest expression. Masterpieces of the perverse that were frequently produced by the leading artists of the period, such posters raged against the Western Powers, the treaty of Versailles, Jews, work-shirkers, Socialists, Communists and others, and comprise some of the most striking, memorable and vitriolic examples of their kind. Posters also praised the merits of Aryan blood, of youth, family, land and liberty, in a powerful neo-Pagan style that is at once potent and cloying.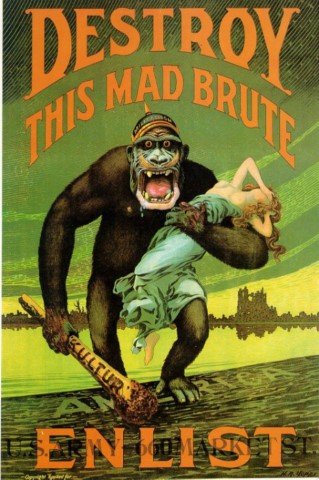 State of Deception provides an expert analysis of this shifting Nazi use of propaganda as well as its role in promoting both community and conformity, and its 196 pages are littered with many hundreds of noteworthy examples, the majority reproduced in full colour. Of particular interest are the early chapters detailing British and American propaganda throughout World War I. Whereas German propaganda had been content to portray the enemy as ridiculous, its markedly more effective Allied counterpart painted the Germans as a bloodthirsty horde to be vanquished at all costs. Stories of bestial German atrocities abounded, such as a supposed predilection for cutting off the hands of young Belgian girls – that such stories were entirely untrue was not important, for they combined effortlessly with posters depicting the 'Hun' as a marauding ape sporting a spiked helmet and club. Such a mentality pervaded much of the Nazi propaganda effort directed against Jews and Russians: one of the most ardent admirers of World War I Allied propaganda was, in fact, Adolf Hitler, then a frontline soldier, and he evidently learnt his lessons well.
State of Deception is a monumental work which expertly combines a fascinating historical narrative with numerous well-chosen photographs, posters, leaflets and other ephemera of this uniquely tempestuous epoch. It is a thought-provoking and impeccably presented testament to mankind's aptitude for wilful self-deception, not to say debasement, and as enlightening an encapsulation of the 'age of propaganda' as has ever been attempted.