Karl Pilkington's path to becoming a TV tour guide was, to put it mildly, unorthodox. An anonymous radio producer for the London station XFM, he began working with Ricky Gervais and Stephen Merchant, the duo responsible for comedy cornerstone The Office, on their weekly show which ran from 2001 to 2005.
The pair (and their listeners) quickly became enamoured of Pilkington's unique worldview, accounts of his unorthodox upbringing and near-total inability to comprehend the world around him. Eventually Pilkington's inimitable observations would form the crux of The Ricky Gervais Show, a record-breaking run of podcasts that have now been downloaded over a quarter of a billion times, and would also be channelled into three best-selling books and a string of television specials that saw him musing on such topics as immortality, intelligence and artistic expression.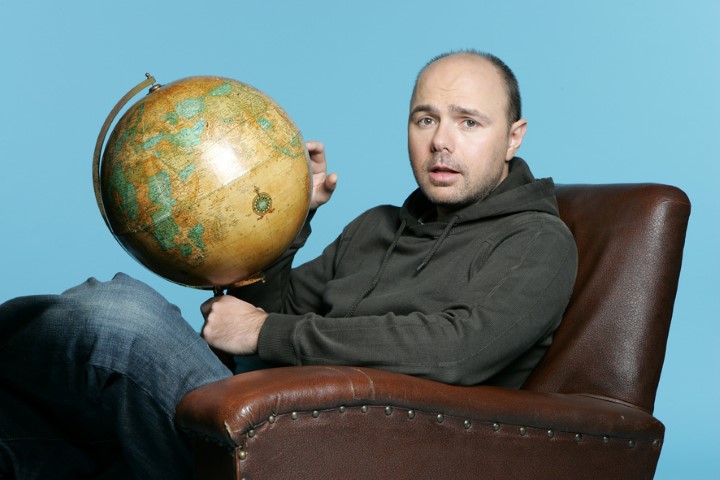 The trio's latest project was conceived after Pilkington, never the most intrepid of travellers, stated he had no interest whatsoever in the Seven Wonders of the World and expressed serious doubt that there was anything particularly wonderful about them.
In an effort to prove him wrong Gervais and Merchant have cooked up An Idiot Abroad, an eight-part travelogue that sees the decidedly reluctant Pilkington visiting the sites of Petra, The Great Pyramid, Christ the Redeemer, Macchu Picchu, the Taj Mahal, Mexico's Chichen Itza and the Great Wall of China ('it should be called the Alright Wall of China,' he declared after his visit, nonplussed).
By their own admission the pair have widely varying motivations for sending their friend halfway around the world. Merchant thinks it will open Pilkington's mind to new experiences; Gervais, in his own words, simply wants him 'to hate every minute of it for my own amusement... This is one of the funniest, most expensive practical jokes I've ever done.'
This new series won't represent the first time Gervais has had a titter at his mate's expense. The podcasts resound with Gervais' infectious laugher, and his penchant for following the docile Pilkington's credulous, ill-informed utterances with the words 'You're an idiot' have given rise to the series' title, as well as that of its accompanying book.
The resultant tome is, in keeping with Pilkington's deadpan comedic persona, unlike any other travel book ever written. For a start he isn't particularly thrilled to be visiting any of the places he writes about, expounds on the minutiae of his experiences at the expense of any truly useful travel advice and is constantly flustered, uncomfortable and befuddled by the strange sights and customs he encounters.
Does that mean the book is boring, dreary or repetitive, however? Of course not. This is Karl Pilkington we're talking about. He may have, by Gervais' own estimation, 'the IQ of an orange,' but he is also one of the most quick-witted 'dimwits' on the face of the planet. He displays a positive genius for one-liners, and is also possessed of an ability to transmute his thoughts into observations that are simultaneously acerbic and whimsical, bizarre and naive, childlike and jaded. Petra, for instance, is dismissed as a 'cave with kerb appeal,' and he is likewise unmoved by the Great Pyramid, a structure about which many millions of words have been written. Karl's addition to the canon? 'I couldn't believe what a state it was in. It was like a massive game of Jenga had got out of hand.' His ability to veer into the unlikeliest of comedic tangents is another of the book's strengths: Pilkington devotes barely more than a paragraph to his visit to Christ the Redeemer, but several pages to a gay Brazilian acquaintance he suspects might be trying to seduce him.
An Idiot Abroad remains, much like Pilkington's mind, a beautiful oddity. It is dotted throughout with hundreds of excellent photographs, cartoons and the inevitable commentary from Gervais and Merchant, and is guaranteed to have all but the most stalwart of readers chortling uncontrollably. It's another joyously unpredictable and relentlessly enjoyable offering from Pilkington, who once more proves that whilst he's many things, an idiot isn't one of them.