Tucker & Dale vs. Evil is the little film that could. Currently in limited release in the States Ė and having screened recently at the Sydney Film Festival in Sydney Ė Evil now finds its way to Blu-ray courtesy of Icon on a sparse but functional disc.
Tucker & Dale could be described as Shaun of the Dead for slasher movies. A horror-comedy that gleefully upends the conventions of that 80s genre giant, itís a funny and gory but with a surprisingly big heart. The sweetness comes from the lovable oaf Tucker (Taylor Labine), one half of a hillbilly pair with the more highly-strung Dale (an hilarious Alan Tudyk, Firefly), both decent and good natured folks undone by prejudice and comical misunderstandings. Off at their remote West Virginian wood cabin for a holiday retreat, these two lovable simpletons get on the wrong end up of a bunch of attractive teenagers, also in the woods on an impromptu vacation. The teens are mostly decent people, too Ė especially Allison (30 Rockís Katrina Bowden), who quickly becomes the object of Tuckerís schoolyard crush. The most notable exception is Chad (Jesse Moss), a vindictive young man with a grimy hatred for these simple Southerners, who heís deduced are trying to murder them one by one.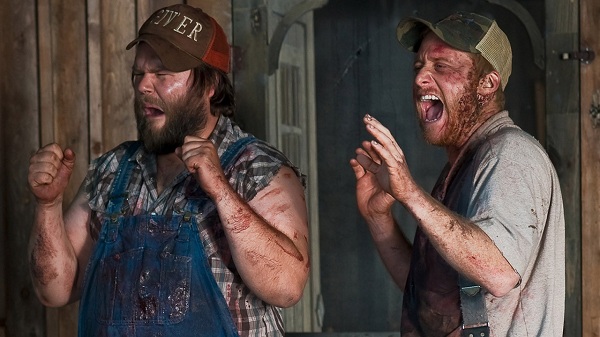 Itís not too hard to reach that conclusion when the pretty young things keep killing themselves inadvertently, the escalating series misunderstandings playing into and against the well-worm slasher genre tropes. The motivations in this film may be on the flip-side of tradition, but the end result is the same: a bunch of dead teenagers, who meet their ends in impressively gruesome and inventive ways.
First time director Eli Craig and his writing partner Morgan Jurgenson have smartly skewered 30 years of horror movie conventions, and the film seems specifically made for those familiar with the concepts its satirizing. What everyone can appreciate, though, is the filmís wide-eyed sense of fun, and the cute chemistry between best-buddies Tucker and Dale. Neither are all that bright, but theyíre lovable, and the fairy-tale crush Dale has on Bowdenís Allison is endearing. Inevitably, the energy stalls a little about two-thirds the way through (no film could keep up the hysterical level of farce for even a brisk 89 minutes), but as a piece I canít recommend Tucker & Dale vs Evil enough. A delicious treat for genre fans.
(Nb. Avoid the trailer Ė itís way too spoilery)
Audio & Video
A low budget feature, the film has crisply shot foregrounds but indistinct, almost ethereal backgrounds, evoking the spooky haze of the Virginian (actually Canadian) forest. As expected of a recent digital feature, the Red One photography looks smashing on Blu-ray, and the charming guitar-tinged score and decent 5.1 sound mix round out a fine set of technical specs.
Special Features
After you get through the half-dozen trailers that precede the main menu, youíre presented with only one notable extra: a simple 12-minute behind the scenes ďmaking of.Ē Consisting mainly of talking-head interviews with the cast and crew, itís pleasant and watchable, but it never reaches beyond the typical back-slapping promotional featurette. The lack of a cast/crew commentary track feels like an oversight.