The universe of True Blood expands in Season 3 as the richly woven world of the Charlaine Harris novels is explored even more with some unexpected and dramatic twists along the way. Created and produced by Alan Ball for HBO, True Blood is an adult drama that is fuelled by vampiric eroticism. This is definitely no Twilight or Vampire Diaries but rather the stories of True Blood are a true intellectual experience with a healthy appetite for sex. With that said, True Blood Season 3 is Rated 18+ so you're pretty much guaranteed blood, nudity and some strong adult themes. Kids need not apply!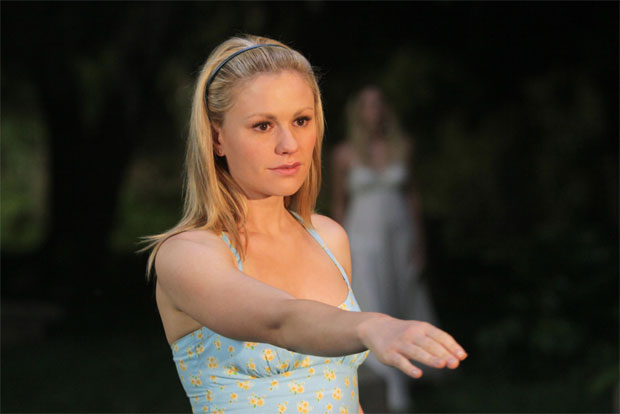 The protagonist of the series is waitress and telepath Sookie Stackhouse (Anna Paquin) who lives in the small town of Bon Temps Louisiana who has fallen in love with an almost 200-year old vampire named Bill Compton (Stephen Moyer). Add in a variety of interesting characters, both supernatural and natural, and True Blood is easily one of the most original and captivating series of the last decade which has spawned a world-wide following. With Season 4 soon to be released in the US, Warner have perfectly timed their Blu-ray and DVD release of Season 3.

The Review

Once I heard that familiar yet melancholy song Bad Things by Jace Everett and the bizarre, religious and contradictory opening sequence of this series, my True Blood experience would once again be ignited and in just a few days, we watched over ten hours of werewolves, vampire, fang bangers... and fairies! Given all these facts, Season 3 of True Blood immediately takes place after the epic conclusion of the previous season that saw Maryann, a maenad enslave the residents of Bon Temps in order to resurrect her god.

With the help of Sam Merlotte (Sam Trammell), a shape shifter and owner of the local bar, Maryann was defeated and Bon Temps attempted to return to normality by "forgetting" that they were controlled by this mythical creature. The relationship between Sookie and Bill was explored even more in season 2 and the cliff hanger ending was Bill proposing to Sookie. Although quite emotional at the proposal, Sookie flees to the bathroom to consider the marriage, however when she returns to tell Bill yes, her vampire lover is gone. Someone had kidnapped him.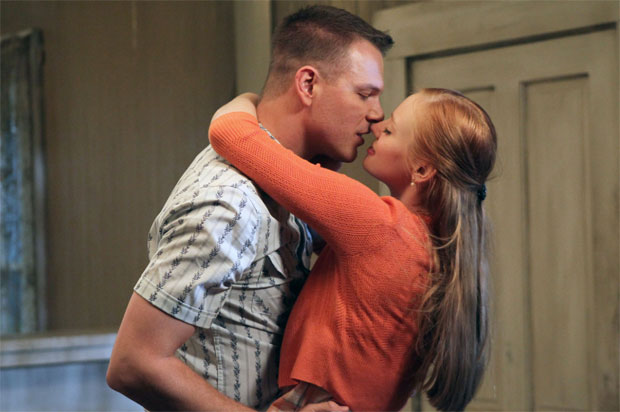 In season 3, we learn that Bill was abducted by Russell Edgington, the Vampire King of Mississippi and was forced to renounce his allegiance to his Queen in order to ensure the safety of Sookie. Season 3 also sees Sookie seeking assistance from Eric to find and "rescue" Bill plus we learn more of her powers which are connected to more supernatural mythology. However Edgington knows the truth behind Sookie's powers which is why he has Bill working for him, "unbeknown" to our vampire hero.
There are several new characters introduced in Season 3 such as Tommy Mickens (Marshall Allman), Sam's younger brother, also a shifter who has been abused by his father and forced to fight in illegal dog fights. Nonetheless when Sam meets his real family, this causes a real problem for him and a very unexpected outburst from this rather mild character. Werewolves and werepanthers play a prominent role in the storylines as well with Russell Edgington (Denis O'Hare) making an unholy pact with the werewolves in exchange for vampire blood and their obedience.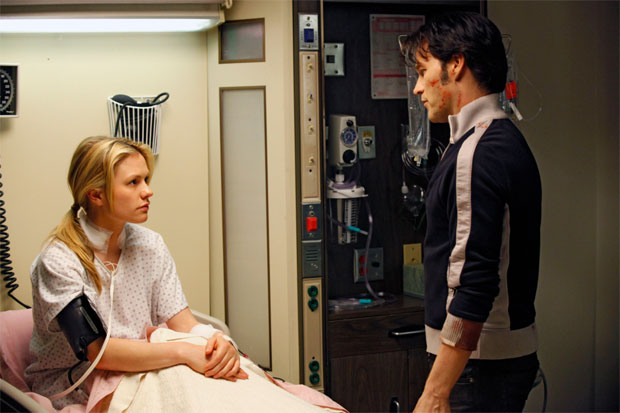 Alcide Herveaux (Joe Manganiello) is one of these werewolves but is disgusted that his clan is working for Edgington and he becomes entangled with Sookie and her search for Bill which leads to a very close relationship between them. Meanwhile the loveable and over sexed fool and brother of Sookie, Jason (Ryan Kwanten) has found a new crush with that of Crystal who happens to be a werepanther and has a very dark family secret. From Lafayette finding a new lover to Tara continuing her downward spiral into darkness from the death of Eggs, she falls victim to vampire Franklin Mott (James Frain) who has become besotted with her. Needless to say, Alan Ball continues to throw some amazing curve balls at the viewer.
There has been some criticism that Season 3 of True Blood was a bit of a mixed bag due to the number of new characters and sometimes whacky plotlines but from a systematic approach, it has only expanded the universe of these characters and for me, the entertainment and nail biting stories are still there that are tainted with lust, corruption and power. This may have turned a few people away from the series because it's not just set in the sleepy town of Bon Temps anymore, rather it's a much more complicated story. Thankfully many of the plot lines left open from the previous season are closed but Ball continues to create new ones which are based on the excellent novels of Charlaine Harris.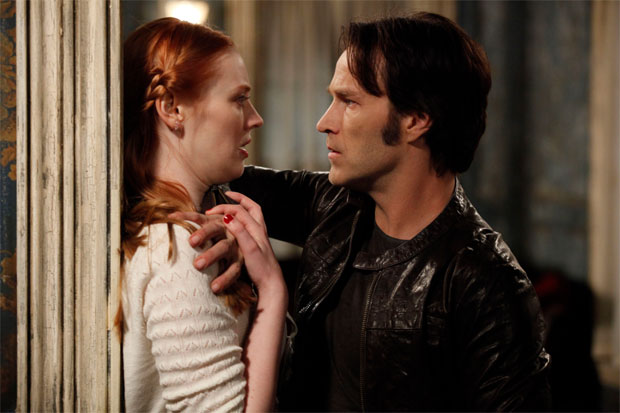 The best thing about True Blood for me are the diverse characters and this continues in season 3. Whether it's the vile Vampire King Russell Edgington or his nefarious links to Eric, every character has a dark secret and season 3 really explores these secrets, thanks to the wonderfully written and twisted stories. Even in all this darkness, romance plays a key factor here such as the relationship between Jessica, a vampire and her human lover Hoyt or Lafayette and his new lover delving into the world of vampire blood, it's all unexpected and thoroughly entertaining, especially the revelation of Sookie's amazing powers. As each episode unlocks a new secret in True Blood, writing this review quite difficult without spoiling too much.
Video, Audio & Special Features
Presented in 1080p 16x9, the video quality is outstanding for True Blood Season 3 and although the series is generally quite dark, when the blood begins to flow, it's almost surreal and unworldly. Images are ultra-sharp and blacks are quite strong. There is some bleeding with the red but overall, HBO continue to release first class blu-ray releases. Match that with a DTS-HD Master Audio track and True Blood comes alive in your house.
Just like the previous releases by Warner, the special features are brilliant for True Blood and Season 3 is no exception to that rule. From interactive guides, secrets, character perspectives, music videos and commentaries, this release has been made for True Blood fans and nothing was forced or contrived in this department. It's all first class extras and delves more into the series thanks to all these snippets of tasty information.
Special Features
Character Perspectives
Learn more about what's going on straight form the mouths of Jessica, Andy, Tommy and Alcide

Flashback/Flash Forward
Move through time in the world of Bon Temps. Flashback to relive pivotal moments and what exclusive minisodes that you've never seen before. Flash Forward to reveal the significance of a certain scene.

Vampire Histories
Get the background stories on your favourite characters

Hints/FYIs
Don't miss a beat with these informative facts, show hints and clues

True Blood Lines
An interactive on-screen guide highlighting the connections between the many worlds of True Blood

Anatomy of a Scene
Take an in-depth look at the introduction of werewolves, as Alan Ball and the cast and crew take us through the journey of filing the exciting werewolf fight in the beginning of the season

True Blood Post Mortems
Stick around after each episode for a bonus helping of True Blood

Snoop Dogg "Oh Sookie" Video

Seamless Play
A disc to disc seamless menu system that provides a complete season viewing experience

Six Audio commentaries with the Cast and Crew including Alan Ball, Anna Paquin, Stephen Moyer, Alexander Skarsgard, Joe Manganiello, Kristin Bauer Van Straten, Denis O'Hare and many more.
If you're a True Blood fan, than this is a must have Blu-ray for your collection! Highly Recommended!