Directed by the inimitable Steven Soderbergh (Erin Brockovich, the Ocean's trilogy), Traffic caused something of a sensation upon its release in 2000, winning four Academy Awards and proving a runaway critical and commercial success in the process.
The film dextrously interweaves three seemingly disparate tales which involve the use, importation, policing, politicising and (as the title suggest) trafficking of narcotics. The ensemble cast is unparalleled and includes Michael Douglas, Benicio Del Toro, Catherine Zeta-Jones, Don Cheadle (Hotel Rwanda, Ocean's Eleven), Dennis Quaid, Luis Guzman (Boogie Nights), That '70s Show's Topher Grace, Salma Hayak, Erika Christensen (Parenthood) and Steven Bauer (Scarface).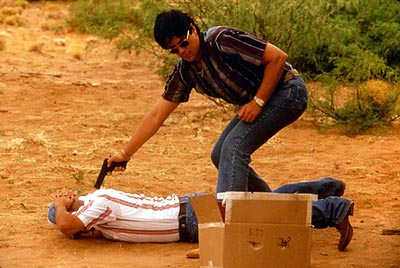 Traffic's nimble plot crosses both sides of the Mexico-US border and incorporates warring Mexican drug cartels, a corrupt General, a newly-appointed US 'drug tsar' (Douglas) whose own teenage daughter Caroline (Christensen) is a closet drug addict, Carlos Ayela, a family man living a double life as a drug kingpin (Bauer), his beautiful wife (Zeta-Jones) desperate for a return to normality at any cost, a low-paid Mexican police officer (Del Toro) reluctantly embroiled in the upper echelons of his nation's capricious attitude towards drug trafficking, two diligent, wise-cracking DEA agents (Cheadle and Gutzman) charged with bringing down Ayela, as well as assorted hitmen, users, pushers, politicians and policy-makers.
The screenplay is as complex, compelling and scintillating as the film's themes themselves, the performances uniquely mesmerising and the manner in which Soderbergh employs a distinctive look for each of the film's three principal storylines is both novel and devastatingly effective. Never before has something so ugly been so beautifully encapsulated – Traffic is quite simply vérité-style drama at its finest, and one of the most intoxicating and engrossing filmic experiences of the past decade.
Audio & Video
Upon its initial viewing the film's intersecting storylines induce a fairly complex viewing experience. In order to minimise any potential confusion Soderbergh adopted a particular style for each segment, utilising various monochrome filters, diffusion techniques and alternative shutter angles to add an element of visual differentiation. The film is thus alternately awash with cold blues, warm light-drenched yellows and tobacco-filtered, washed-out sepia: it's substantially more subtle than it sounds and is a brilliant technique that translates perfectly in HD. Soderbergh also took steps to ensure the finished product had an intentionally grainy, high-contrast look which mirrored the subject matter and gave the film an additional infusion of reality. Intentional grit aside the film looks superb on Blu, and the first rate visuals are neatly complimented by a potent 5.1 surround audio mix with plenty of clout and an abundance of directionality to boot.
Extras
In addition to a fairly superfluous 'PS3 Controller Guide' and the addition of Personalised Bookmarks (known as 'My Scenes') the Blu-ray features no less than 24 Deleted Scenes and a 19-minute Featurette entitled Inside 'Traffic', comprising backstage footage and interviews with Soderbergh and the film's principal cast and crew. It isn't an abundance of bonus fare but considering most previous DVD editions were bare-bones anything at all is welcome, and the multiple Deleted Scenes in particular neatly round out the principal feature.
Summary
Traffic is a flawless film in every conceivable sense, one of the best films of the 2000s and, for my money, the highlight of Soderbergh's feted directorial career. It's a stunning evocation of every aspect of the drug world; the manufacture and shipping, the importation, use and abuse, the glamour, the seaminess, the corruption and violence, the short-lived highs and longer-term squalor. Stylistically it adds much to the cinematic landscape – it doesn't look like any other film, and in turn no other film will ever look quite like it. It's non-judgemental, eminently watchable and abundantly re-watchable, it's tightly scripted, beautiful crafted and superbly directed – films simply don't come much better than this.