Bringing together two of Hollywood greats Johnny Depp and Angelina Jolie, director Florian Henckel von Donnersmarck remakes the 2005 French Film Anthony Zimmer in this romantic thriller that has parallels to Alfred Hitchcock and a touch of the golden age of Hollywood. Unfortunately something just doesn't mesh in the remake of The Tourist and Depp and Jolie feel like chalk and cheese, the chemistry seems to be missing with both actors wanting to be elsewhere, especially with their scenes together.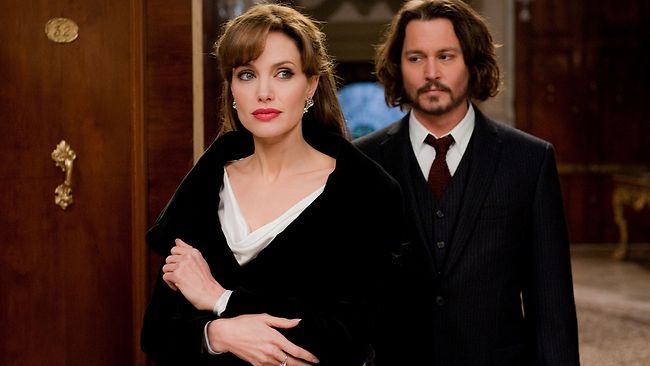 Given these facts, the story revolves around Elise Clifton-Ward (Jolie), a beautiful international thief who is being pursued by the wrong people, lead by Reginald Shaw (Steven Berkoff) where she literally bumps into Frank Tupelo (Depp), a teacher who has a passion for spy novels. As Frank becomes drawn into the international world of espionage thanks to Elise, they must work together in order to escape the villains and ultimately seal the movie with a kiss. Add in some interesting cameos with Timothy Dalton as Chief Inspector Jones who is actually one of the more stronger characters in The Tourist and much of the plots begin to melt away with obscurity and boredom from the viewer.
Even so, the premise behind The Tourist is actually quite interesting, however what starts as an engaging thriller ultimately becomes a clichéd game of cat and mouse that is made worse by Depp and Jolie's lacklustre performances which is a shame. The highlight of the movie for me, besides the electronic cigarette which actually do exist was the amazing cinematography of John Seale which really showcased the beautiful architecture of Italy who really made some great use of its natural colours and earthy tones.
Video, Audio & Special Features

Once again Sony release a high quality Blu-ray disc with some rather decent video quality here. The image quality is quite sharp with vibrant colours, deep blacks and some amazing attention to detail. Add in a DTS-HD Master audio soundtrack and this release supports clear audio that at times does make use of your surround sound system. Is should also be noted that the musical score of James Newton Howard is quite powerful that not only pays homage to the thrillers from the Golden Age of Hollywood but adds a unique modern interpretation to them.
In terms of special features, Sony have a plethora of interesting accessories to the crime that include a rather insightful and interesting audio commentary by director Florian Henckel von Donnersmarck. Add in some short featurettes from the making of the movie to interviews with cast and crew, trailers and a rather short outtake reel and Sony once again ensures that their movies have the appropriate love given to all their films.
Special Features:

Canal Chats
A Gala Affair
Action in Venice
Bringing Glamour Back
Tourist Destination-Travel the Canals of Venice
Director Commentary
Outtake Reel

Final Thoughts?

This romantic thriller had potential in creating a modern film based on many premises from the golden years of Hollywood. Unfortunately the biggest problem with The Tourist are the two stars of the movie, Depp and Jolie who lack any real chemistry behind the two. If you seen Depp's latest performance in Pirates of the Caribbean on Stranger Tides, the chemistry between his female co-star Penelope Cruz is brilliant that is filled with humour, passion and realism, it's just a shame that it didn't work in this movie, even with all the plot holes.