Danson and Highsmith (Dwayne Johnson and Samuel L Jackson) are NYPD officers on top of their game. They're good at what they do- just ask them. They show a wanton disregard for property and traffic laws; it's all about stopping the bad guys and saving the day, and the city will clean up the mess. These guys are heroes, beyond reproach. But what happens if these hotshots become so arrogant that it costs them their lives? And who will step in to fill the vacuum left by the departure of these massive crime-fighting egos?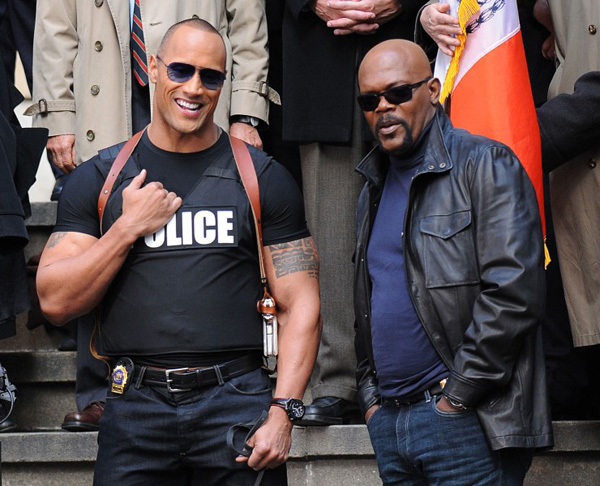 This is the question posed to us by 'the other guys,' a product of Will Ferrell and Adam Mckay's Gary Sanchez Productions.
Mckay acts as screenwriter and director, while Ferrell plays one of the two lead roles: Allen Gamble, who is a forensic accountant, and quite possibly the most boring police officer ever. The other side of the coin is Terry Hoitz, played to effect by Mark Wahlberg. After accidentally shooting a famous baseball player, Hoitz has been tethered to a desk job alongside Gamble- a source of perpetual frustration, and frequent boil-overs.
The two begin by investigating a pedestrian case involving building permits, and find themselves sucked into a conspiracy that is much larger than themselves.
If you've seen 'Talladega nights' or 'Anchorman', then you've got some idea of what to expect from this film. And while the comedy doesn't quite reach the heights of those performances, there are still plenty of laughs to be had.
Michael Keaton is a stand-out, playing the police captain who moonlights at Bed Bath and Beyond.
While the laughs are frequent, they are offset by a good dose of proper action as well. The set-pieces are as creative as they are outrageous, the picks being the shoot-out between Hoitz and Gamble and a helicopter on a golf driving range, and a daylight robbery involving a wrecking ball. It's all crazy, fun stuff.
If there is a downside, it is the way some scenes can meander along without hitting the right note- a by-product of the improvised nature of the filming.
The actors were given free reign in a lot of cases; sometimes it works, sometimes it doesn't. The interplay between the two leads is for the most part entertaining, but Wahlberg's explosive character begins to wear thin before the end of the feature. At one point, Gamble confronts Hoitz about his anger problem. "It's exhausting," he laments. It is exhausting, for the viewer, but thankfully the climax is reached before this really starts to grate.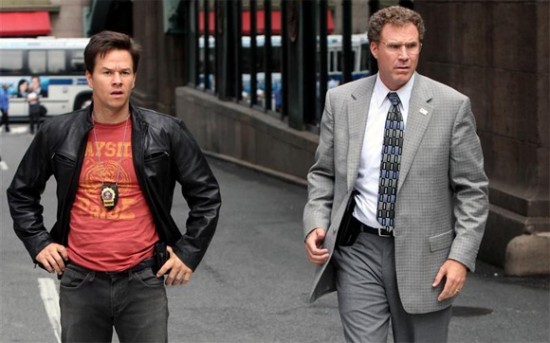 And when Ferrell finally cuts loose at baddie Steve Coogan, the results are hilarious.
This Blu-ray edition of 'the other guys' contains both the theatrical release and an extended version of the film with an additional 9 minutes of footage.
It all looks fantastic in 1080p: New York City looks stunning as a backdrop, and the action is crystal clear. Perhaps the most impressive and memorable scene in the movie depicts Hoitz and Gamble on a drunken outing, with the camera moving between frozen shots. The soundtrack is well designed, with narration by Ice T and numerous well-chosen tracks to accompany the action.
We are treated to a whole bag of special features, although the range of quality is fairly broad:
The Mom-entary: The mothers of director Adam Mackay, co-writer Chris Henchy and Will Ferrell provide commentary. It isn't quite as funny as it should be.

Line-O-Rama: Some nice pieces of improvisation from the main characters.

Gag reel: What sort of comedy film doesn't have one of these? Definitely worth a watch.

Additional deleted and extended scenes: Quite lengthy in running time. Some, but not all, are worth a look.

Flash forwards: Certain scenes throughout the movie are looked back on by the characters, after the event. This one hasn't been explored to its full potential, but there are some mildly funny cameos by Donald Trump and Paris Hilton.

Alternate action: Some more scenes involving Samuel L Jackson and Dwayne Johnson.

Wasn't that: Explores how each of the actors came to work on this movie, and their strengths as comedians.

Crash and burn: A nice little feature that takes us through the stunts and how they were realised.

Why are there Brits in this movie: Basically Adam Mckay and actor Steve Coogan slagging each other off: worth a look.

Rob Riggle likes to party: Riggle, who plays officer (name) in the film, takes us on a brief tour of the set and its inhabitants.

We shouldn't kiss chicken: A slightly disturbing featurette.

Mark Wahlberg's eating contest entourage: Wahlberg invites a friend on set, who claims he can eat anything… and is happy to demonstrate.

Bed bath and way beyond: Some improvisation work by the talented Michael Keaton that didn't make the cut.

Lendl global commercial: An advertisement for the evil corporation.

Extreme close-up: Some interviews with the cast, conducted at discomfortingly close range. Not a lot to like.

Pimps don't cry music video: A clip for the song that Will Ferrell co-wrote for the movie.

Everyone hates the DVD guy: Yet more interviews on-set, filmed with a hand-held camera. Not a lot to smile at here.
Conclusion
'The other guys' on Blu-ray is well worth a watch if you're a fan of Will Ferrell and Adam Mckay's past work, or if you're just looking for some good, loud, ridiculous fun.