Possibly the most violent and unrelentingly gory film ever to scrape by with an MA15+ rating in this country, The Loved Ones is a depraved, disturbing smorgasbord of sadism the likes of which makes Hostel look like Mary Poppins.
The feature debut for Australian director Sean Byrne, the film opens with Brent (Xavier Samuel, The Twilight Saga: Eclipse) driving along a country road with his father in the passenger seat. Swerving to avoid a bloodied figure who suddenly appears in the middle of the road, Brent ploughs his car into a tree and kills his old man in the process. A few months later the troubled lad is asked to the high school prom by Lola Stone (newcomer Robin McLeavy), a seemingly normal teen with a seemingly harmless teenage crush. Brent demurs – he has a girlfriend, Holly (The Caterpillar Wish's Victoria Thaine) – and after a quick shag in his car promptly heads to find some isolated bushland for a pre-dance toke and some alone time.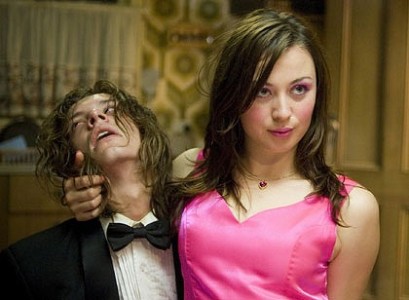 Turns out there's nothing harmless about Lola, or her creepily devoted and equally demented father (John Brumpton), and the next few hours of Brent's life are promptly made a misery on account of his callous 'rejection'. Kidnapped, trussed up and subjected to a variety of mind-bogglingly inventive tortures, the poor lad is forced to take part in a bizarre caricature of a high school dance with Lola and her creepy daddums, in which having bleach injected into his voicebox, both feet nailed to the floor and a DIY lobotomy performed with a power tool are only some of the indignities on offer.
God knows what sort of childhood Sean Byrne suffered in order to be able to conjure up such horrific torture porn, but by the midway point of this shortish, barbaric feature the viewer has been so unrelentingly assailed by savagery that watching the rest of the film is more of ordeal than perverse pleasure. Samuel is excellent as the beleaguered Brent, managing to grimace, drool and splutter convincingly whilst maintaining carefully dishevelled hair and still somehow looking handsome all the while, and McLeavy is mesmerising and hugely convincing in her first major film role as the twisted girleen hell-bent on revenge. The rest of the cast are also exceedingly able, and the manner in which Byrne combines pitch black humour with the best of Carrie and Wolf Creek is admirable, especially considering this is his debut feature.
After a while though the gore becomes tedious, at least for those of us who don't relish the sight of relentless suffering, violence and indignity, no matter how in-context. A fairly superfluous subplot involving a friend of Brent's and his Goth prom date is tacked on to flesh out the already slender running time, and while it adds a welcome sense of levity it eventually peters out into nothingness. A little more emphasis on characterisation would have been welcome, but then again those who like their horror supremely grisly will likely find little cause for complaint.
Audio & Video
The 1080p anamorphic 2.35:1 widescreen transfer is faultless and colours particularly vivid in HD. Madman seldom falters with their Blu-ray outings and The Loved Ones is no exception – it looks brilliant, quite literally. The LPCM 5.1 surround soundtrack is also eminently impressive, packing a wallop and giving all channels a decent workout.
Extras
The inclusion of plenty of excellent supplementary fare makes this a hugely worthwhile release for fans. It's a bumper crop, and as far as local releases go The Loved Ones has really been given the red carpet treatment from Madman.
On offer are:
- an audio commentary with Director Sean Byrne
- two of Byrne's earlier short films, namely Advantage (2007) and Ben (2001)
- an hour-long featurette with plenty of cast of crew interviews (including Samuel and McLeavy)
- The Super Awesome Featurette: A Runner's Story (25:22)
- Toronto Festival Premiere and Q & A (16:02)
- VFX and Production Galleries, and a 30-minute Visual Effects featurette
- Theatrical, Teaser and other Trailers