Whilst declaring a fondness for the filmís of Mel Gibson is these days tantamount to denying the Holocaust, I must say I havenít seen too many of Ďourí Melís films I didnít like. Sure his directorial outings tend to be bloody, bombastic affairs, but thereís been a certain audacity to many of his choices of subject matter, to put it mildly, and itís difficult to think of too many directors who could handle a project like Braveheart or Apocalypto with the aplomb and attention to detail that Gibson usually brings to such projects.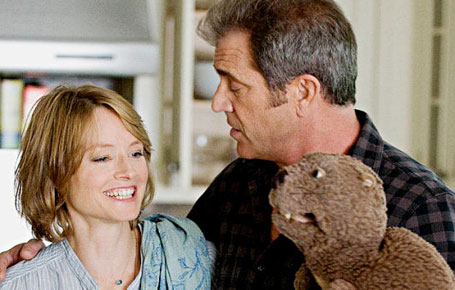 The Beaver is certainly audacious, but unlike the aforementioned fare almost entirely lacking in genuine emotional resonance. Directed by Jodie Foster, this marks her third outing behind the lens and her first in a decade and a half. Conceptualised as a Ďdramedyí but noticeably light on the yucks, the film revolves around a severely depressed middle aged businessman Walter Black (Gibson) quite literally at the end of his rope. Booted out by his long-suffering wife (Foster) and despised by his teenage son, Black goes on a bender and makes a bumbling attempt at suicide, only to be saved by a moth-eaten stuffed toy he finds in a dumpster. The eponymous plushy promptly finds its way onto Blackís hand and into his heart, and by infusing the puppet with both a cockney Ray Winstone-esque accent and all the things he finds it impossible to say directly, the suicidal chap is able to restore some measure of control over his tortured existence. His wife and eldest son initially, and understandably, think heís gone completely insane, though his youngest seems quite smitten with the concept. Eventually though Blackís behaviour, like the filmís premise itself, becomes simply untenable. Following lots of farfetched nonsense and a smattering of self-realisation, the movie builds to an uncomfortably pathos-laden crescendo as something in the way of a valuable lesson is learned by Gibsonís character, if not his audience.
Many reviewers, whilst praising the strength of Gibsonís performance, have been unable to accept the filmís central premise, and I would have to add my small voice to this chorus. Thereís simply nothing funny or entertaining about a severely mentally ill man being forced to communicate to the world via a hand puppet, then blaming his loved ones (both explicitly and implicitly) for not only his condition but also its ridiculous expression. Black belongs in a mental institution, not a boardroom, and when he and his puppet enact the sort of business miracles that could only exist in a Hollywood screenplay most viewers will be left wishing a beaver would come and gnaw Mel Gibsonís hand off, if only to punish him for such a silly career choice.
Audio & Video
The aspect ratio looks more like 1.85 than the advertised 2.40, but either way picture quality is crisp and bright. Thereís the odd bit of (presumably intentional) muting in order to mirror the subject matter, but overall the film presents strongly on Blu. The DTS-HD 5.1 Master Audio is likewise sharp, and gets the occasional workout courtesy of a soundtrack provided by talented Brazilian composer Marcelo Zarvos, who has previously scored such diverse filmic fare as the Vanessa Hudgens vehicle Beastly and the excellent low budget Mexican film Sin Nombre.
Extras
Audio Commentary with Director Jodie Foster
Deleted Scenes with optional audio commentary
Everythingís Going to Be OK Ė Making Of Featurette