Reminiscent of dark comedy superhero films like Kick-ass and Defendor, SUPER is of a similar vein and is equally as entertaining, although perhaps a touch more violent... actually, extremely violent. The story is written and directed by James Gunn (Slither) and features some great performances by Rainn Wilson, Ellen Page, Liv Tyler and the wonderful Kevin Bacon.
The protagonist of the film is Frank (Wilson), a rather average man who has fallen into a slump. His only two highlights in his life was getting married and telling a police officer which way a criminal ran. To make matters worse, his life has been humiliation and reaction.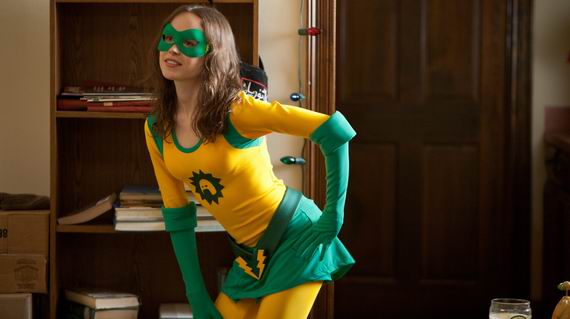 Unfortunately for Frank, his life has fallen apart and to compound the situation, he works as a cook at a rather unappealing restaurant and his wife (Tyler) has left him for a sleazy night club owner and drug lord (Bacon). This is just another injustice to the life of Frank and during his sojourn to find himself, he actually forms a bond with a "oversexed" or "undersexed" local comic shop worker called Libby (Page) who encourages him to find justice... which results in the new hero called "The Crimson Bolt" to be born!
The birth of the Crimson Bolt is quite amusing as he watches a very horrible TV series about a Christian superhero called the Holy Avenger (Nathan Fillion) who inspires Frank with a "vision". In his violent role as a hero, he even puts up flyers around the neighbourhood and has the worst catch phrase ever... Shut-up Crime! With his new superhero guise, Frank will attempt to liberate the world and also himself.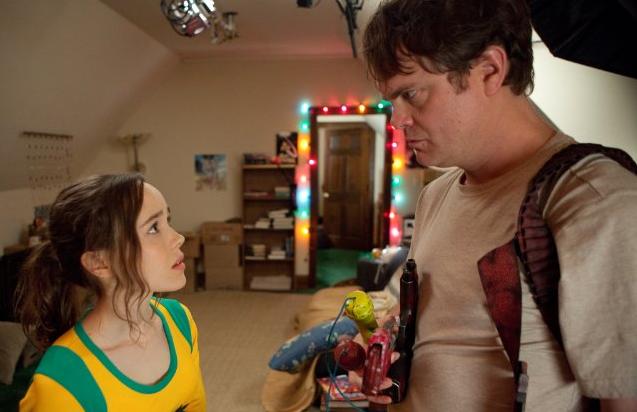 This will be done by getting his wife back and saving the city by beating the absolute living crap out of criminals. Joining The Crimson Bolt is his sidekick Boltie who is Libby from the comic book store and together they engage all the criminals across the city for their atrocities.
Bolt with his pipe and Botlie with her Wolverine claws. Another interesting aspect about these characters is the relationship that they form and how they view the word with their "superhero" glasses as a justification for the violence that they inflict that in turn mirrors their damaged psyche. Libby also has a huge crush on Frank as she constantly flirts with him and creates some very amusing superhero poses. Page is definitely the saviour of the movie with her overt cuteness who swears like a trooper, only to be put in place by Bolt informing her that if you want to be my sidekick, no cussing!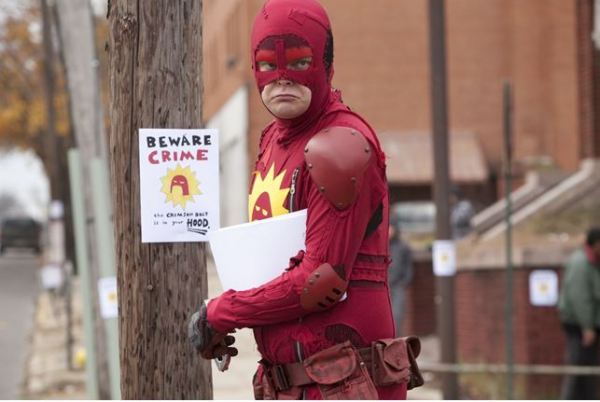 All in all, the characters (even with the superhero antics) are quite human and whether it's depressed Frank who has "found" new meaning to life or Bacon as the criminal kingpin of the clubbing scene, each character is flawed and this film beautifully highlights the overall weakness of humanity. With all this darkness and analytical view on humanity, the movie has this real "indie" comic book feel to it from the ridiculous costumes of our heroes to the use of comic book art and special effects near the end and the very awesome soundtrack. The ending however is a real shocker!
Video/Audio

The video qualtiy of Super is a 1080p/AVC that produces exceptionally vibrant images and very sharp colours. When the Crimson Bolt and Boltie are out fighting crime, their costumes almost leap out of the screen due to their colours. Audio is equally as good with Dolby Digital 5.1 that makes full use of your surround sound system, especially with the violent battles that adorn this feature film. The only let down are the special features that are very lacklustre. Even so, Gunn successfully transforms the superhero genre into what it should be in the real-world.
Recommended to all the superheroes inside us!