Shortly after his betrothal to the daughter of a Tao priest, scholarly Yangsheng (Hiro Hayama) discovers there's a serious problem with his lovemaking performances: in short, they're far too short. As weeks turn into months, his new bride Tie Yuxiang (Leni Yan) grows increasingly frustrated, and Yangsheng begins a quest to become the 'ultimate lover'... or at the very least one who can delay orgasm for longer than seven seconds.
His search for increased longevity in the pants department leads him to the Pavilion of Ultimate Bliss, a peerless haven of carnal pleasure ruled over by the tyrannical Prince of Ning. In exchange for no less than ten years of servitude the Prince offers Yangshen the pick of his harem, which thankfully for fans of Asian skinema consists of busty Japanese AV idols Saori Hara (Horny House of Horror) and Yukiko Suo. Much lovemaking, melodrama and topless shots ensue as Yangshen abandons himself to the Pavilion's orgiastic debauches, all in the interests of better pleasuring his wife, of course.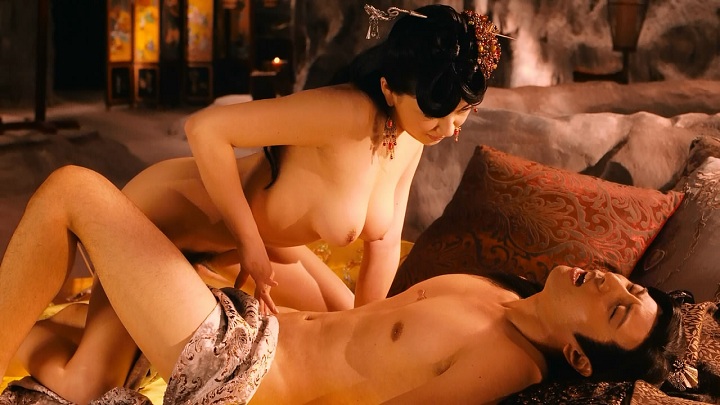 The third instalment in the Sex & Zen franchise, Extreme Ecstasy was designed to be shown in 3D (it was billed as 'the world's first 3D erotic film'), though this additional layer of novelty is not to be found on local DVD or Blu-ray releases. The edition released to home media in Australia is also a heavily pruned 113-minute version, not the longer and markedly more graphic 129-minute director's cut or even the 118-minute Hong Kong theatrical edition, both of which received a Category III rating in their homeland. The censorship does dilute the film's impact somewhat, and makes little sense for an R-rated offering in this day and age.
That said, Extreme Ecstasy still has much to recommend it – those expecting a hammily enjoyable and occasionally ridiculous smut-laden period piece will not be disappointed. Hayama, heretofore best known for a series of comparatively modest roles in a series of Jackie Chan films like New Police Story (2004) and Robin-B-Hood (2006), puts in an able performance as would-be libertine Yangsheng, as does newcomer Leni Yan as his comparatively beautiful bride. The supporting roles vary markedly in terms of the amount of dialogue spoken and clothing worn, usually depending on the gender of the actor in question, though the majority of the cast members seem to relish the silliness and their performances are both relaxed and risqué as a result. The screenplay is predictably patchy (sample dialogue: 'it will hurt, but it feels extremely awesome') but the production as a whole is by no means inept – the costumes, special effects and sets are first rate, as are the fake beards, and though the narrative occasionally falters there's enough flesh on show to titillate even the most devout of puritans.
Special Features

One of the main draws of Madman's Blu-ray release, in addition to a luscious 16:9 transfer and a pair of heaving 5.1 audio mixes, are the bonus features on offer. In this regard we are treated to a short Making Of featurette, as well as additional featurettes on the pre-production, art direction, characters and more. Also featured are 'nice' and 'saucy' editions of the film's theatrical trailer, and the usual quartet of trailers for additional Eastern Eye fare.