It seems like there are quite a few movies coming out of Hollywood at the moment that are based on fighting. From Christian Bale in the excellent movie The Fighter to Channing Tatum's Fighting, not to mention Will Smith's remake of the Karate Kid. It seems that "fights" are once again back in style and as we all know, the 80's and early 90's were filled with these movies.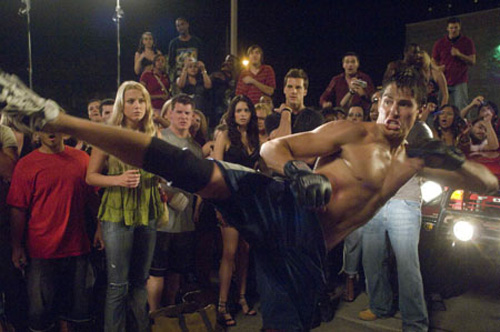 This is where Never Back Down comes into the mix that is like a mature version of the Karate King meets No Retreat No Surrender and is directed by Jeff Wadlow (Cry Wolf) which uses the MMA (Mixed Martial Arts) as the inspiration behind the story, not to mention the movie Fight Club.
The protagonist of the story is Jake (Sean Faris) who moves from Utah to Florida with his family and commences at a new high school. However we soon learn that Jake has quite the temper and he has become somewhat of an internet sensation as he was filmed having a fight at a local football game in his home town in Utah.
Needless to say, Jake is somewhat famous in his new high school due to the viral video and quickly befriends Max (Evan Peters) who has gotten his ass handed to him at a local school fight club. This is where Jake also meets the attractive Baja Miller (Amber Heard) who flirts with him and invites him to a party that is held by her boyfriend Ryan (Cam Gigandet), the leader of this underground fight club who in essence has lured Jake here so he could fight him.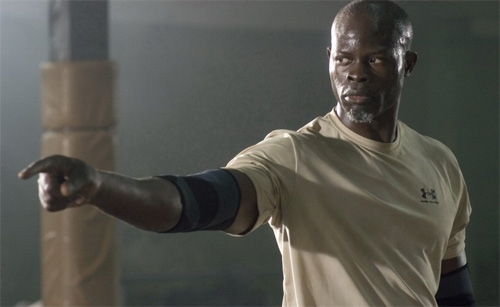 Predictably Jack loses the fight with Ryan and the prestige of his classmates but with the assistance of his friend Max, they sign up at a local gym and come under the tutelage of Jean Roque (Djimon Hounsou), a mixed martial arts instructor. From here Jake learns some control over his fighting and without spoiling the movie any further, it's quite obvious how the film will pan out, not that this is a bad thing.
There's some noticeable acting by Sean Faris as Jake, the tempersome hero plus Evan Peters as his sidekick but unfortunately the gorgeous Amber Heard is only there for a pretty face as opposed to her excellent role in the movie And soon the darkness. Hounsou once again plays the older sage and although he has generally be stereotyped in most movies, he fits this role perfect in Never Back Down.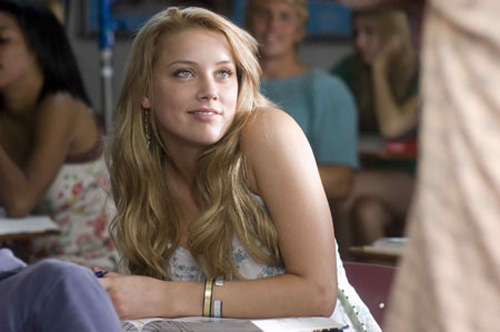 Video, Audio & Special Features

The Blu-ray quality looks great on a 1080p TV with AVC MPEG-4 coding that boasts sharp images, vibrant colours and deep blacks. There is some grain and noise but overall, it a relatively impressive Blu-ray when it comes to video. Audio supports a DTS-HD 5.1 soundtrack that maximises your surround sound and boasts some exceptional clear audio and decent sound effects plus the pumping soundtrack.
When it comes to extras, this release features audio commentary with Director Jeff Wadlow, writer Chris Hauty and actor Sean Faris plus an interesting feature on how to fight like a champ with Bas Rutten. For a relatively unknown movie, there's plenty of content to watch after the movie and thankfully most of it is not just an add for the main movie.

Never Back Down may not be the best movie of the year but if you enjoy fight movies, Never Back Down delivers in this area but unfortunately suffers from a clichéd script and a little over acting. Even so, the beautiful Amber Heard more than makes up for any poor dialogue and tacky plot holes!