Released in 1999 and directed by Studio Ghibli co-founder Isao Takahata, My Neighbours the Yamadas represents something of a departure for the studio best known for such sublime Hayao Miyazaki creations such as Princess Mononoke and Castle in the Sky.
The instantly striking thing is how different the animation is from other Ghibli outings. The first 100% digital feature for the studio, the film discards the previously favoured traditional animation for a sparse and intentionally crude comic strip style in keeping with the original source material, Hisaichi Ishii's manga Nono-chan.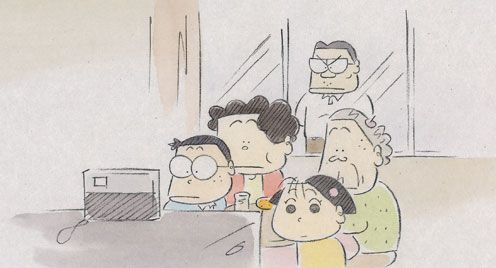 It also isn't a film in the traditional sense, but a series of vignettes revolving around the daily lives of the Yamada family; parents Takashi and Matsuko, Matsuko's elderly mother Shige, teenage son Noboru, young daughter Nonoko and the excitable family dog Pochi. The storylines vary from the mundane to the fantastical but usually revolve around the minutiae of day-to-day life, minor familial conflicts, the complexities of modern relationships and the importance of a strong family unit. What helps the stories rise above their often deceptively simple premises is an abundance of humour and, as with other Ghibli releases, liberal helpings of humanity which crosses cultural or linguistic divides.
Takahata's films have never been quite as widely recognised as those of the inestimable Miyazaki, and My Neighbours the Yamadas was no exception; despite solid reviews upon its initial release it fared relatively poorly at the box office both in Japan and abroad. Further dwarfing the film in the years since its release was the appearance of an additional three Miyazaki classics, namely Spirited Away, Howl's Moving Castle and Ponyo.
Despite this The Yamadas still has plenty to offer, and though its spartan animation and lack of detailed backgrounds (something of a Miyazaki hallmark) will doubtless put off some viewers the film looks really rather striking in HD, and is a heart warming and effective portrayal of the complexities of modern family life.
Aspect Ratio: 16:9 widescreen
Audio: English DTS-HD 5.1 surround, Japanese DTS-HD 5.1 surround
Subtitles: English
Bonus Features:
Storyboards (344 pages worth!)
Secrets of My Neighbours the Yamadas (45-minute Japanese TV featurette)
Behind the Microphone – footage of the English language recording sessions
TV Spots
Original Japanese theatrical trailers
10 minutes of Studio Ghibli Trailers