Megamind is a film based on the classic superhero archetype of superhero vs supervillain which involves a large blue headed protagonist named Megamind (Will Ferrell) who is more antagonist than protagonist. So this blue-headed evil genius unfortunately has one problem, his arch-nemesis Metro Man (Brad Pitt) who is always on the scene to mess up one of his outrageous plans of delusions and grandeur, not to mention world domination <insert evil villain laugh>.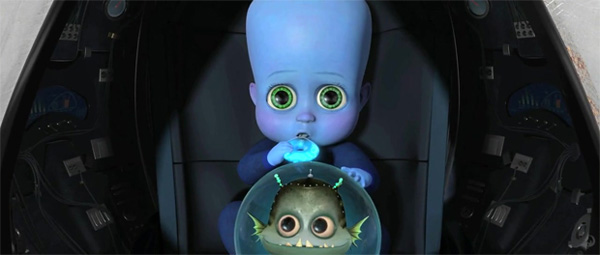 But every story has a beginning and just like Superman, both Megamind and Metro Man were rocketed into space because their home planets were doomed by a black hole. Thankfully their caring parents sent them to Earth, one growing up in luxury (Metro Man) and the other with workmen. Ironically both attended the same school of gifted individuals and sadly, Metro Man was the class favourite which rubbed off wrongly on Megamind. Megamind soon discovered that crime actually does pay and there is a great montage of our villain doing "bad" things that is spurned on by George Thorogood and the Destroyers song Born to be Bad. Besides planning on world domination, Megamind's prime task was to destroy his nemesis!
Amazingly enough, this bungling villain finally gets the upper hand and unwittingly "kills" Metro Man, finally achieving his ultimate goal... but wait... what will Megamind do now? Every villain needs a hero right? That's right, Megamind becomes bored with his life because he has no opposite and deep down, he enjoyed the battles with Metro Man. He decides to create a new foe called Tighten (Jonah Hill) but unfortunately this new hero turns out to be evil which forces Megamind into a role reversal.
Thankfully in all this villainy and heroics in the story is some great humour, due to Will Ferrell and the lovely Tina Fey who plays Roxanne Richie, a Lois Lane type reporter who falls for Megamind. The relationship between Megamind and Roxanne is a treat to watch unfold that is steeped in villainy because Megamind disguises himself as the humble human called Bernard (Ben Stiller) for Roxanne to fall for him. You're probably already guessing how the movie will end but it's actually quite a fun movie to watch and easily one of the better CGI films of last year.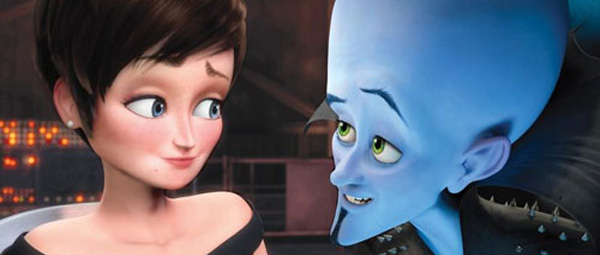 Once again Ferrell is perfect as the lead role who really gets into this character and his pronunciation of words is quite absurd but thoroughly entertaining such as him mispronouncing his hometown of Metro City which he calls Metrosity. Jonah Hill is excellent as well who plays Hal Stewart, the man turned into Tighten by Megamind and becomes corrupt with his new new powers. Finally we have David Cross as Minion, Megamind's sidekick who is actually a fish in a suit. It's all classic humour!
But compared to Invisibles which is still one of the best CGI superhero movies to date, Megamind has a darker tone but it is still a movie that can be watched by most people, especially with its humour and sometimes subtle adult innuendos. I also enjoyed the subtleties in the movie such as Hal wearing a "Error 404 request not found" t-shirt, it's just too cool for school.

Video & Audio

The 1080p video of Megamind looks fantastic on our FULL HD TV with super sharp images, colours that almost appear to be from another world of how bright and vibrant they are and CGI animation to die for. The attention to detail on this movie is remarkable that is highlighted by the clarity of the video. As the film was CGI, there was no grain or dust and it's almost reference quality. My only gripe is that there is no Megamind 3D on Blu-ray!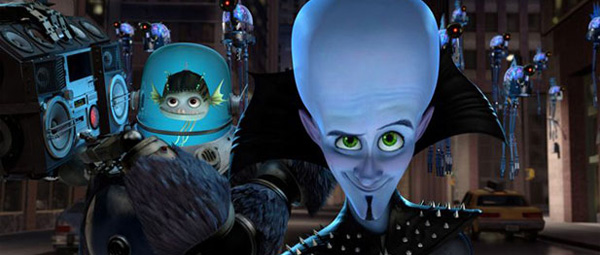 Audio uses a 7.1 Dolby TrueHD mix that is spectacular and definitely borders on reference material once again. The movie is well mixed with good levels and when the action heats up, it's almost like you are in the middle of a battle as your surround sound system kicks in. Audio is exceptionally clear as is the majestic and boppy soundtrack. I love the old school soundtrack for this film.

Special Features

When it comes to special features, this double play collection contains the movie on both Blu-ray and DVD. however for special features, there is a wealth of content here that include the following;
Megamind The Button of Doom (Comedy adventure with Megamind and Minion)

Meet the Cast (HD)

Discover the Lost Scene (HD)

Visit Megamind's Lair (HD)

Experience AnimatorMan (HD)

Learn to Draw Megamind (HD)

Unleash the Reign of Megamind Video Comic Book

Filmmaker's Commentary

Fun High - Flying Games and More!
Because the movie was so enjoyable, the extras are pretty darn impressive that include a plethora of featurettes from a deleted scene, meeting the cast of Megamind, games, animation techniques, commentary and even how to draw the hero in question. These features are for both kids and adults alike!

Conclusion

If you're a fan of CGI movies, than Megamind should be added to your collection and compared to some of the other animated releases of late, this one is easily the superior one and it really helps that Will Ferrell is the star. It features action, romance and drama that is suitable for just about everyone in the family, even with the "death" of Metro Man. Sure, the movie may be clichéd here and there but what animated feature isn't? To infinity and beyond! Oops... wrong movie... I meant ... if you don't like this movie and according to Megamind, it can be easily reheated, in the microwave of evil!
Recommended!