Based on the DC comic book character Jonah Hex, this modern re-imagining isn't as bad as some critics have cried foul murder about. I may get crucified for this review but I bloody well enjoyed Jonah Hex from start to finish. It's a mindless action movie that was thoroughly enjoyable but in the long run, probably utterly forgettable... except maybe the Megan Fox scenes. But what about Jonah?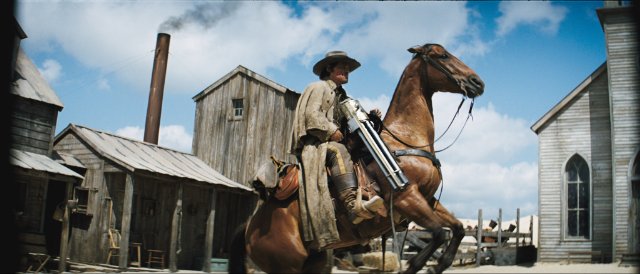 Jonah Hex (Josh Brolin) is a gunslinger/bounty hunter who basically takes no crap from anyone. There is an awesome scene early on in the film where Hex attempts to pickup his bounty and when those who hired Hex turn, he starts to fire two Gatling guns strapped to his horse. Yes, it's outrageous and yes, it's probably been created for teenage males but it's the cool things like that is missed by those trying to find all the plot holes in the movie.
Through flashbacks, we learn how Hex's face became disfigured and that his wife and son were violently murdered Quentin Turnball (John Malkovich), his arc-nemesis. His soul motive in life is revenge and when he is forcibly hired to work for the military, he learns that Turnball is still alive. Khaaaaan! From here, the plot is pretty simple, lots of violence, death, action and more action as Jonah Hex makes his way to Turnball. There is also a type of love interest (no nudity sorry) with this actress called Megan Fox.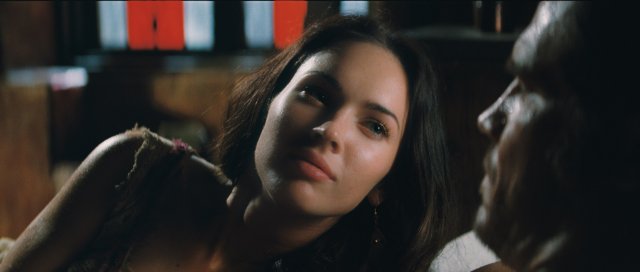 Hex bumps into Lilah (Megan Fox), a prostitute whom both seem to have a history together. There is some off screen bumping! Lilah wants Hex to take her away and start a new life somewhere but Hex is hell bent on revenge. Unfortunately for Lilah, she is caught up in this mess and is abducted by Turnball's men briefly after their "romantic" encounter.
The ending of Jonah Hex was predictable but enjoyable with some awesome acting from Malkovich as Turnball who once again plays the over the top villain to perfection. It's fun to see his character get his hands on a super-weapon to hold the Union to ransom on Independence Day that requires Hex to stop him. Josh Brolin plays the perfect Hex, a gruff and no questions asked anti-hero who fits the shoes of this comic character quite well. Malkovich wins though!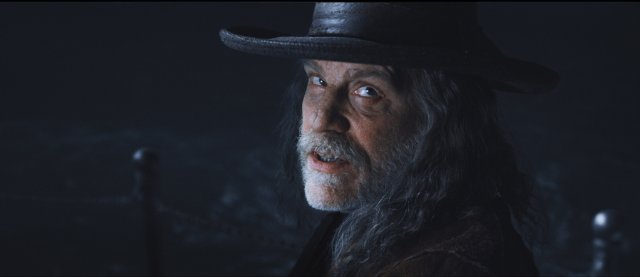 Then we have Megan Fox who is basically there for some titillation for the male viewers and most of her scenes require close-ups of her pouty lips and curvaceous body... not that any male would complain. Even though she plays the girl-power character, it does make you wonder why she is a working lady when she could easily do whatever the hell she wanted. However the character is a contrast to Jonah's disfigured face as Lilah has her own scars hidden away. Touché!
Video, Audio & Special Features
The video quality of Jonah Hex looks amazing on Blu-ray, especially the scene with the cannons as the quality just screams HIGH DEFINITION. Add in HD sound and you have one Hollywood blockbuster presentation in the comforts of your own home. For special features, there are deleted scenes, a documentary about the character from comics to movie and lastly, an insiders look into the movie from the eyes of Josh Brolin, Megan Fox, John Malkovich and Director Jimmy Hayward. It's actually quite interesting to watch.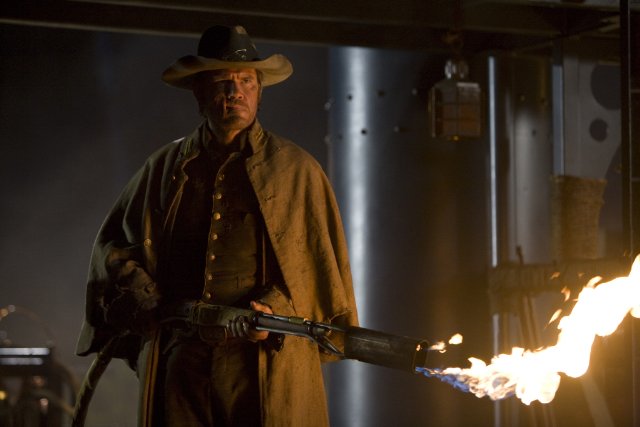 Conclusion
With huge Hollywood explosions, lots of Western clichés and Megan Fox, one can see why Jonah Hex failed at the box office but after watching this movie on Blu-ray, it's actually not that bad. It's definitely for those who want some light-hearted action without the complications of maze like action films like Inception. Or for those that want to see Megan Fox... an additional screen capture is provided below that are seeing this solely for Miss Fox.