Hello, I'm Johnny Knoxville... Welcome to JACKASS! <cue music> <cue ridiculously stupid stunts>... with age comes wisdom but not so with the crew of Jackass, MTV's most outrageous TV series that was released last year in glorious 3D at the cinemas and now it's turn for Blu-ray owners to once again relive and perhaps be a little ill at Jackass 3.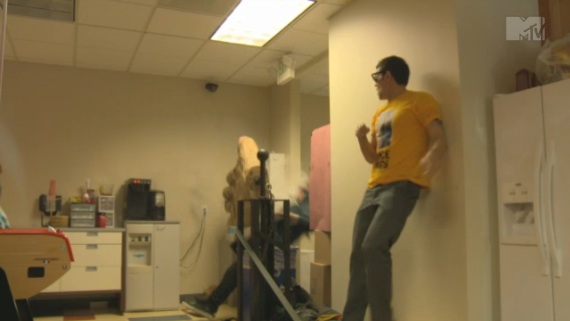 However, if you are offended by male stupidity, male genitalia, male excrements and comedic situations that would offend probably 99% of the world's population, than you might want to look elsewhere for your fun. But with that said, the guys from Jackass have somehow catapulted to the big screen and obviously there are quite a few people who enjoy the whacky and sometimes stomach churning stunts of Jackass
My theory is that many of the fans of Jackass are either of Generation X or Y... myself included in that mix and yes I am a fan of this franchise. With a successful TV series, two movies, Jackass 3 had a big shoe to fill and obviously 3D was the catch here. Unfortunately this Blu-ray release only contains the "old school" classic 3D which means you need the blue/red glasses (four are included). Unfortunately the 3D is nowhere near as good as it was at the cinemas or on a 3D TV but even so, it's actually not bad for "old school".

Jackass 3D also milks the 3D effects throughout this movie with most of these segments in your face effects as there is no real depth here. This Blu-ray also contains both the theatrical and uncut edition of Jackass 3D which contains more outrageous Jackass... around five or so minutes. There is no story behind Jackass but protagonist Johnny Knoxville is the face of the series who is joined by Steve-O, Bam Magera, Wee Man and Chris Pontius plus all the other Jackass members who generally follow what their esteemed leaders do for there 15-minutes of fame. With that said, Jackass is a very hard Blu-ray to review because the stunts and skits in this movie range from bad to shocking and amazing to comedic which is a similar theme of other Jackass movies.

Nonetheless, I enjoyed Jackass and there were probably a handful of scenes that almost made me dry reach or turn away from something or another. There are some classic stunts and skits in this movie such as Johnny Knoxville dressing up as a grandfather and then French kissing his 19 year old "granddaughter" in the street as he attempts to ask a complete stranger to take their photo. Generally, most of Knoxville's stunts are amusing such as Jet Skiing in a pool and then going over a jump or Knoxville playing the invisible man in order to hide from an angry bull.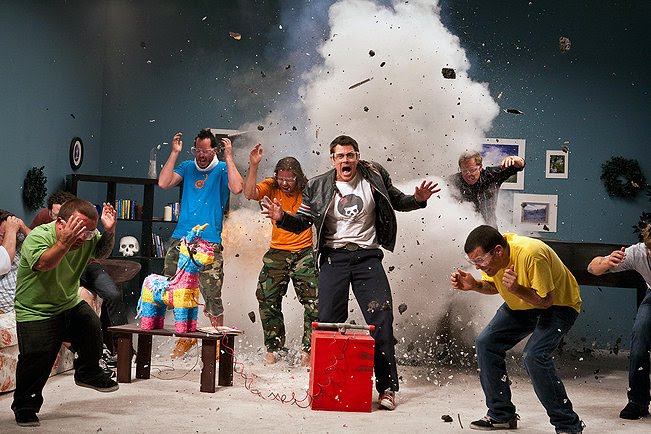 The other members of the team have their moments as well, such as dropping Magera into a pit of rubber snakes, only to be "punked" again by throwing live snakes in with him as well... Bam does not like snakes. Steve-O does the notorious reverse portable toilet scene that has him covered in human excrements that literally has most of the crew gagging in disgust. From urinating on people to exploding volcanoes that shoot out faeces, Jackass does have its low moments and even though these live at the bottom of the barrel, one cannot but help admire the stupidly or resilience of these people that raises the question... why?
The highlight for me was the duck hunting skit that has one of the Jackass crew propelled in the air by jumping on a giant balloon, only to be shot down with paint balls as the rest of the crew shoot this rabid duck. Whether it's Pontius dressed up as a gorilla on the loose who literally causes Bam's father to run to the toilet or the variety of actors and extreme sportsmen who grace Jackass 3, there is something disturbingly addictive to these people, even though most would keep this dirty little secret to themselves. Compared to the previous two movies Jackass 3 is definitely the weaker of the trio, however it still provides what most would expect from Jackass... penultimate human stupidly and if you enjoy Jackass, than ignore those polemic people.
Video, Audio & Special Features

Video quality looks exceptional on Blu-ray, although some of the handheld camera stints are a little poor. As mentioned the 3D segments are used for cheap tricks and it actually works and make you jump or puke? Personally, you cannot beat native 3D TV features but even so, it does its job... just. With strong colours, sharp images (for the majority), there is no artifacting or compression errors here, maybe a few but few and far between. The DTS-HD 5.1 surround track works well with the premise of Jackass and sometimes goes off in a few of the segments. Audio is exceptionally clear as is the music.
For special features, if you can handle anymore Jackass, we get a 30-minute making of Jackass 3D, 16 minutes of deleted scenes and my favourite, 18 minutes of thoroughly enjoyable outtakes. Though some may consider these guys idiots, they are actually human like the rest of us... just a little strange.
Contents
Uncut Version (Blu-ray)

Theatrical Version (Blu-ray)

Deleted Scenes (Blu-ray)

Outtakes (Blu-ray)

MTV Making of Special (Blu-ray)

Classic 3D DVD Theatrical Version (DVD)

Digital Copy Theatrical Version (DVD)
Conclusion
Jackass 3 provides fans of the series even more craziness but if you're offended or easily get offended, don't buy or even look at this Blu-ray because it will scar you for life and you will require years and years of therapy. But for those who enjoy Jackass... this is it!